Interpreting and translation
Language and communication support
This page details the communication support available to make sure you receive safe treatment and care in the language you understand.
You can also translate the CAMHS website into a language of your choice.
The interpreting and translation services are provided free by the Trust to:
Service users / patients
Family members
Carers
The Trust is able to provide the following interpreting support for you:
Face to Face interpreting
Telephone interpreting
British Sign Language (BSL)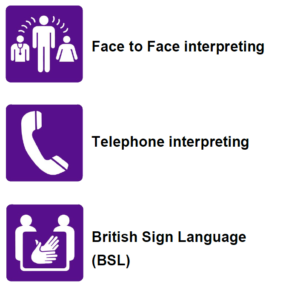 Accessing language and communication support
If you need any help with understanding English, please let a member of staff know and they will arrange an interpreter for you.
What is Interpreting?
Interpreting is where the spoken word (e.g. a conversation or discussion) is re-produced in another language.
This might be from Arabic to English and vice versa, or from British Sign Language (BSL) to English and vice versa.
This may be done face-to-face or using remote methods, such as telephone interpreting, or video, or visual relay interpreting.
What is Translation?
Translation is where a written word is re-produced in another language (e.g. a leaflet, a letter).
This can involve translating a document from one language to another, such as Spanish into English, or transcribing a document from English into Braille.
This also includes translating into alternative formats, such as Easy Read, Large Print and Audio Recording.
Did You Know?
There are over 7,000 languages in existence around the world
The most widely spoken languages are Chinese, Spanish, English and Hindi
Over half the population is bilingual
30th September is International Translation Day
Thanks to the young people of Article 12 for gathering the information for this page
We are sorry that this post was not useful for you!
Follow us on social media to stay up to date
Tell us how we can improve this page
Page last reviewed: 11 January, 2023