Working for us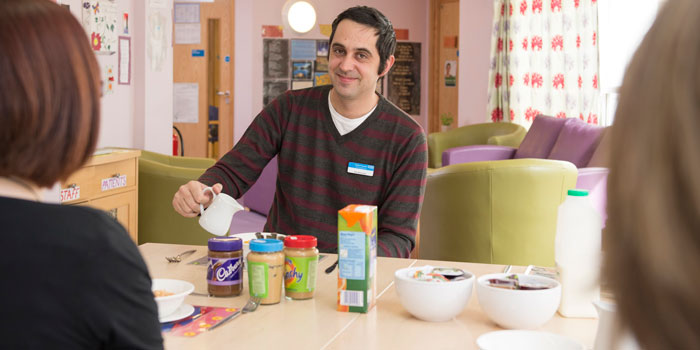 There are many job opportunities at Cotswold House for a range of occupations:
Psychiatrist
Clinical psychologist
Counselling psychologist
Family therapist
CBT therapist
Dietician
Occupational therapist
Nurse
Support worker
Administrative staff
As an equal opportunities employer we look to reflect the diverse nature of the population we serve through positively encouraging applications from all areas of the community.
We are striving to become an employer of choice by providing a rewarding, friendly, supportive and challenging working environment.
We encourage our staff to fulfill their full potential, giving 100% whilst at work. In return, we offer flexible working options, help with childcare and housing, a career break scheme and excellent learning and development opportunities. Visit the Oxford Health working for us pages for more information or contact Jenny Winter on 01865 904241 to discuss job opportunities.
With the NHS payment system 'Agenda for Change' we ensure equity in pay and terms, and conditions of service. We support personal development and career progression for our staff with help of annual development reviews and personal development plans.
What our staff say
"It is great to be part of such an enthusiastic and caring multi-disciplinary team. I find working at Cotswold House rewarding and supportive, and I love having the opportunities to develop skills, train in various areas such as phlebotomy and spend invaluable 1 to 1 time with patients."
"The team at Cotswold House are the most supportive I have ever worked with and are incredibly dedicated to providing the best care they can to the patients.  Both the level of involvement available to me as a support worker and the numerous training opportunities offered to me have proved invaluable in my professional development.  I truly feel lucky to work at such an excellent place as Cotswold House, Marlborough and it is nice to wake up in the morning and actually look forward to going to work."
"I have worked as a sessional support worker on the ward for over 4 years now. The induction process was excellent, with thorough traning and support. The ward have always been very flexible in terms of offering me work when I am around and respecting when I cannot. I have always felt a valued member of the team; with supervision and training being offered. Even as a sessional worker I have been able to get more involved in projects that have interested me. It has been excellent experience to be part of a team that values forward thinking practice, values patients and supports staff."
"Since working for Oxford Health I have had numerous opportunities to attend both internal and external training as well as University courses to develop my learning. My manager is always very encouraging and supportive of me attending courses that will benefit the patients and the Ward.
The team here genuinely care passionately about the service they provide to patients and it is a privilege to work with such motivated and enthusiastic people. We often receive high praise from both patients, their families and visitors who come to the unit. We are known for our high standards of care, forward thinking and ability to embrace change, this is shown through a number of projects that we have piloted since opening in 2008."
Page last reviewed: 15 April, 2019