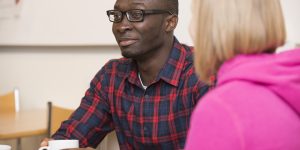 Innovation showcase Oxford
An Academic Health Science Network co-hosted event highlights joint achievements.
18th May 2017 @ 4:00 pm - 6:30 pm
The 'Innovation and Impact: Oxford 2' event is part of the AHSN roadshow series highlighting joint achievements over the past 12 months and looking to the future.
This event will be introduced by the Trust's Chief Executive Stuart Bell CBE, and topics discussed will include:
• updates on the Oxford Academic Health Science Centre and new NIHR Oxford Health Biomedical Research Centre
• patient safety and mental health, Professor Charles Vincent
• patient perspective on early intervention in psychosis
• patient safety – reducing catheter associated urinary tract infections, Helen Bosely/Christine Selwood
The event takes place 4-6.30 pm n 18th May 2017 at Unipart Conference Centre, Unipart House, Cowley, Oxford OX4 2PG.
For more information and to register, please see the AHSN website.
Last updated: 14 August, 2017
Next event
Previous event