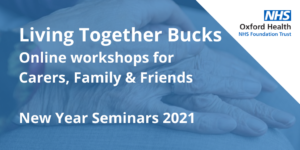 Living Together Workshops – Exploring Change and Recovery
Workshop is available to carers of service users who are currently under the care of Bucks Mental Health Teams.
March 10 @ 10:00 am - 12:00 pm
This session will examine what it means to recover from mental illness from the point of view of both the cared for person and the carer. This two-hour session will highlight the important aspects of this subject and give participants the opportunity to ask questions.