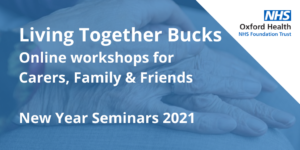 Living Together Workshops – Understanding Suicidal Thoughts and Self-Harming Behaviours
Workshop is available to carers of service users who are currently under the care of Bucks Mental Health Teams.
February 11 @ 10:00 am - 12:00 pm
Self-harm does not inevitably lead to an act of suicide but people who self-harm may also struggle with suicidal thoughts. This session will seek to explain the differences and links between self-harm and thoughts of suicide and offer strategies for dealing with both.