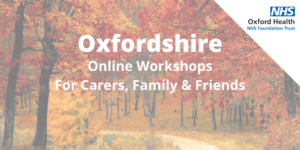 Understanding and supporting people with personality disorders
Workshop is available to carers and family members of service users who are currently under the care of Oxfordshire Mental Health Teams.
April 21 @ 10:00 am - 12:30 pm
This workshop aims to provide an overview of 'personality disorders', exploring the underlying causes and the subsequent complex emotional difficulties which may contribute towards a diagnosis of a personality disorder.
The latter half of the workshop will focus upon strategies and tips for friends and family members who are supporting someone who has a diagnosis of a personality disorder.