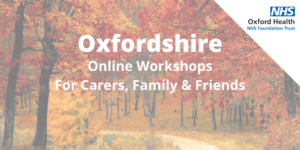 Understanding Anxiety
Workshop is available to carers and family members of service users who are currently under the care of Oxfordshire Mental Health Teams.
February 25 @ 10:00 am - 12:30 pm
Anxiety is a common mental health problem. But what is anxiety? Why does this occur? When is it 'normal' to be anxious? And when do we consider anxiety to be a mental health condition? A chance to answer these questions and develop some ways to manage anxiety.