You said, we did
Every day across the Trust, we aim to change things, both large and small, as a result of your feedback.
Projects
Art project
Highfield unit and Wenric ward artwork, based on feedback and drawings from patients.
Posters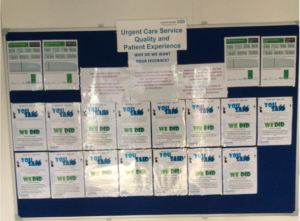 Look our for our 'You said, We Did' posters, notice boards and newsletters, which show how we've made changed things based on feedback we have received.
Please don't hesitate to let your main worker, a team member or manager know if you've got feedback and suggestions,  or find out more about leaving feedback online.
Changes made as a result of feedback
Here are some examples of the changes that we have made as a result of feedback:
Changes to transitioning from children's to adults services

October 2016: A mother raised issues about her son's care, regarding the quality of care and communications when several different team's shared responsibility, and as care moved from one team or organisation to another.In response, we have done the following;

We now have joint Child and Adolescent Mental Health Services (CAMHS)/Adult Mental Health Team (AMHT) transition forums for Buckinghamshire and Oxfordshire. The purpose of these forums is for health care workers to plan early for people who are coming up to 17.5 years old, and who will therefore be moving from children's to adult mental health service.
A joint CAMHS/AMHT services commissioner is in the works for Buckinghamshire.
Staff supervision in CAMHS now includes keeping track of who is coming up to 17.5 years old.
Our new Service Director for adult mental health services brings extensive experience and knowledge of managing children's services.

The transition from children's to adult services is challenging, and we recognise that there is more work to be done.
Health visiting team

The health visitors have recently been asking for your views on what is going well and what improvements we could make to the service we provide for you.

---
Page last reviewed: 22 July, 2021