Endeavour
Thames Valley Endeavour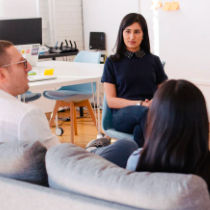 Thames Valley Endeavour is the name of our Intensive Integrated Risk Management Service (IIRMS).
The team consists of a Clinical Lead (Clinical Psychologist), a Forensic Health and Rehabilitation Lead (Social Worker), an Assistant Psychologist and a Forensic Health and Skills Facilitator.
The team work closely with Probation Officers and community providers across the Thames Valley to support individuals with complex needs to transition from custody into the community.
Support available
Thames Valley Endeavour is currently able to work with up to 25 individuals who have been screened onto the Offender PD Pathway and are supported by the National Probation Service in Oxfordshire, Buckinghamshire and Berkshire. Some of the individuals we support might be in custody awaiting release, whilst others are already in the community.
We provide one to one support on areas such as relationships, mental health, physical health, and social difficulties such as housing and employment, with the aim of increasing the psychological and physical wellbeing of our service users and reducing violent offending. In the future we aim to provide group-based workshops and peer lead programmes across the Thames Valley, as well as training and support for community providers working with Thames Valley Endeavour individuals.
The Thames Valley Endeavour team work alongside the Thames Valley OPD Pathway and Probation Officers to identify individuals under licence with the National Probation Service, who may benefit from our support. These individuals are then invited to find out more about Endeavour and to decide whether they would like to access the service. Being supported by Thames Valley Endeavour may form part of someone's release plan from custody but it should not be part of their licence conditions and individuals may opt out from support when they feel ready to do so.
Contact us
If you are a Probation Officer and you think Thames Valley Endeavour may be a helpful service for someone that you are supporting on the Offender PD Pathway, you can contact us directly or via the Community OPD Pathway Psychologist in your probation office. If you are currently being supported by the National Probation Service and think that Thames Valley Endeavour may be a helpful service for you, please speak with your Probation Officer who can discuss your options with you.
Email: thamesvalleyendeavour@oxfordhealth.nhs.uk
We are sorry you did not find this page helpful
Tell us how we can improve this page
Page last reviewed: 1 September, 2021