Pathfinder
Thames Valley Pathfinder Service
Please note:
Due to a change in the way the service will be structured from 1st April 2023, Pathfinder will only be able to accept referrals from the Probation Service. We are no longer able to accept referrals from any other agency, effective from Friday 20th January 2023.
What we do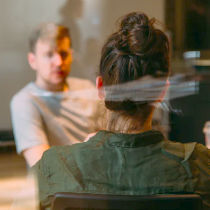 The Pathfinder Service provides a needs-led psychological assessment and treatment service for a complex population of individuals who typically fall outside of available community psychological and mental health resources.
We offer individual and group-based psychological therapy to men and women who struggle with complex emotion regulation and interpersonal difficulties, personality disorder and high-risk forensic needs. The psychological treatment is delivered through an integrative psychological model, underpinned by an attachment model and CBT principles, as well as the NICE Guidelines.
The Pathfinder Service also offers consultation, support and clinical advice to other professionals. Clinical teams and community mental health services working with individuals who present with complex difficulties and offending needs. The consultation aims to collaboratively formulate the psychological, emotional, interpersonal and forensic needs of the patient to begin to develop a shared joint agency care / treatment plan and to identify a current needs-led treatment pathway.
Who we are
The Pathfinder Team is based at Manzil Resource Centre, Oxford and offers the Service across Oxfordshire, Berkshire and Buckinghamshire. We are a small group of Clinical, Forensic and Counselling Psychologists covering this area.
Referral Criteria
The Pathfinder Service provides a 9 to 5 psychological therapy service offering bespoke group and individual psychological therapy. We do not provide care coordination or crisis management. This will be made explicit to the referring agencies. As a psychological therapy service, we prefer to work closely and collaboratively with AMHT and Complex Needs Services and with the patient's GP.
Our referral criteria are as follows:
Conviction for a serious violent offence, for example GBH.
The presence of persistent and pervasive lesser violent offences, including harassment and intimate partner violence.
Contact sexual offending; or
The presence of persistent and pervasive non-contact sexual offending.
Current high likelihood / imminence of violent / sexual offending.
A persistent and pervasive emotional / behavioural dysregulation.
Persistent and pervasive, and marked interpersonal difficulties.
Referring to the Pathfinder Service
It is helpful to also forward as much supporting information with the referral as is necessary / appropriate. When we receive a referral, it is discussed as a multi-disciplinary team to consider whether we are appropriately placed to provide input. This may then lead to offering the patient a telephone screening appointment and then an assessment of their needs on an individual basis. This would ordinarily then progress on to individual or group-based psychological therapy.
We accept referrals from:
National Probation Services
Community Mental Health Teams / Adult Mental Health Teams
Social Services
Other specialist Mental Health providers
Contact us
John Cordwell (john.cordwell@oxfordhealth.nhs.uk / john.cordwell@nhs.net)
| | |
| --- | --- |
| Telephone | 01865 904 165 |
| Address | Thames Valley Pathfinder Service, Entrance 3, Manzil Resource Centre, Manzil Way, Oxford OX4 1XE |
| Email | pathfinder@oxfordhealth.nhs.uk |
We are sorry you did not find this page helpful
Tell us how we can improve this page
Page last reviewed: 17 March, 2023