Oxford Health staff turned out in their hundreds last night (7/12) to celebrate the trust's Staff Recognition Awards. Read more about the night in the Oxford Mail.
The annual event, held at the Jury's Inn in Wolvercote, was a celebration of the outstanding work and contribution of our staff, with nine awards handed out on the night.
Categories for the awards included the Care Award, Safe Award, Recognising Excellence and Innovation Award, Team Work Award (clinical), Team Work Award (non-clinical), Wellbeing Award, the Living the Values Award and the Improving Patient Experience Award.
Seven of the eight awards were based on nominations from staff, with nominations for the Improving Patient Experience Award coming from the trust's patients and the wider community.
The winners on the night were:
Improving Patient Experience Award – Charlotte Collins, Deputy Head of the Spiritual and Pastoral Care Team
Charlotte's award was the only category open to the public to make nominations in, and in a category filled with examples of exceptional care, hers was felt to be the most powerful.
The patient who nominated Charlottes described how she would regularly visit her and offer support and patiently listen to her whenever she needed someone to talk with.
They said: "She brightens up your day and lets you know she cares. She is never too busy for someone in need… I want her to know how deeply her work and her love for it means to those she meets and the trust."
Recognising Excellence and Innovation Award – Joanne McEwan, Health Visitor
Joanne has worked tirelessly to develop the award-winning Let's Talk FGM app, which is designed to facilitate discussion around the sensitive issue of Female Genital Mutilation.
Her commitment to this has seen her app praised by both her fellow health professionals and survivors of FGM and is being widely used as a tool in communities where this is practiced.
Joanne won funding for the project through a Mary Seacole Leadership Award, which recognises outstanding work in the black and ethnic minority community.
Care Award – Rianna Jeffery, Occupational Therapist
Rhianne was described as a "great motivator" and "dedicated practitioner" in her nomination, which also went on to outline all the work she has done as an Occupational Therapist with the Oxford Health.
In her role at the Whiteleaf Centre in Aylesbury she has encouraged artistic expression among patients, personally organising the hire of a cello and arranging regular lessons for patients.
Safe Award – Carenotes Implementation Group
This is a team that has been at the forefront of using IT records to improve patient care and safety and has helped the organisation meet some of its key targets.
Seen as a "service of excellence", the team has also worked closely with the Safeguarding Team to ensure child protection needs are at the heart of everything they do.
Team Work Award (clinical) – Older Adult Community Mental Team (South Oxon)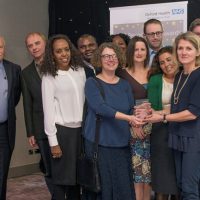 As a team it has been said that it was one that "demonstrated amazing teamwork which subsequently delivers an amazing service and care to all that were being treated and seen by them".
They work closely with other healthcare partners to provide training via their specialist practitioner course.
At the Oxford Brookes University placement awards this year the team won two "Highly Commended" awards, and they are also the first team at Oxford Health to work alongside physical health staff as part of an Integrated Locality Duty team.
Team Work Award (non-clinical) – Medical Human Resources Team
This team provides support for all the junior doctors working within Oxford Health and do so in a helpful and enthusiastic way. In one of the nominations a junior doctor said, "It feels that we work as a team alongside medical staffing rather than there being an "us" and "them" attitude".
While another said: "The team at Oxford Health NHS Trust go above and beyond for their doctors to ensure that they are working under safe conditions, and on shifts that allow us to work with a good work life balance."
Outstanding, helpful, efficient, positive and supportive were just some of the adjectives used to describe this team among their nominations and they played a vital role in ensuring the relationship with junior doctors was well maintained during recent contract disputes.
Wellbeing Award – Linda Coles, Office Manager with the Child and Adolescent Mental Health Service in Melksham, Wiltshire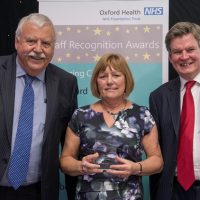 Linda is one of the trust's Wellbeing Champions, a network of staff who dedicate their time to improving the wellbeing of staff in the workplace.
She has been supporting more than 70 staff with initiatives to promote emotional and physical health.
This has included initiatives such as a healthy food tuck shop and the creation of a break-out room to ensure her colleagues get downtime away from their work areas during their busy days.
Living the Values Award – Jacqui Sayers, Lead Family Therapist, Child and Adolescent Mental Health Service in Melksham, Wiltshire
"Excellence" was the recurring word used in the nominations received for Jacqui.
From dealing with a family or patient to interacting with her colleagues, Jacqui maintains a level of excellence in everything she does.
Passionate about her work, she is said to "combine kindness with challenge when needed or appropriate" to help bring out the best in those around her.
Speaking after the awards were handed out, Chief Executive Stuart Bell CBE spoke about the fantastic work that had been recognised on the night. He said:
"It was a brilliant evening I am extremely proud of all our nominees and winners tonight and it's great to have this opportunity say thank you and well done to some very special people."

"We are very fortunate at Oxford Health to have so many people and teams who have shown such great care to our patients and I was very moved by the things I heard."
Each award was judged by a separate panel of both staff and service users as it was felt important to include the views of the people who receive care from Oxford Health.
Interviews with winners can be arranged via the Communications Team by calling 01865 902225 or email communications.team@oxfordhealth.nhs.uk. Pictures and videos from the night will be available shortly and can be requested through the same contacts.