Research into bipolar disorder at Oxford has received a major boost following a £3 million donation from the Page family. The legacy gift will support the development of innovative new treatments as well as improved methods of self-management for those with the condition.
Thought to affect around 1 in every 50 adults, bipolar disorder predominantly impacts mood, causing swings from one extreme to another. Those living with the mental health condition experience episodes of depression and mania – each episode can last for weeks or longer and the highs and lows are often so extreme that they can cause significant distress and difficulty.
Siblings Jane and John Page had a shared interest in supporting research into the disorder, having both felt the impact of inherited mental health conditions during their lives. John began experiencing symptoms of manic depression (now known as bipolar disorder) when he was an adolescent and struggled with it increasingly until his death at the age of 87. A highly intelligent and thoughtful man, he wrote poetry and painted as a means of processing and expressing his feelings about the condition.
The gift from the Page family will support the work of  John Geddes, WA Handley Professor of Psychiatry and Director of the NIHR Oxford Health Biomedical Research Centre. Professor Geddes' research focuses on the development and evaluation of treatments for people with bipolar and mood disorders. He has led several large-scale trials and had a major influence on clinical practice internationally.
As well as funding research into new treatments for bipolar disorder, the gift will enable Professor Geddes and his team to develop the True Colours remote symptom monitoring system. Launched over a decade ago, True Colours allows patients to regularly report on a range of symptoms online or via text message; the data gathered provides them with insights into their own health and treating clinicians with valuable symptom information between clinic visits, resulting in more accurate follow-up and joint decision-making. The system is currently used by thousands of patients in both routine clinical practice and research studies, but has potential to do much more.
Professor John Geddes said: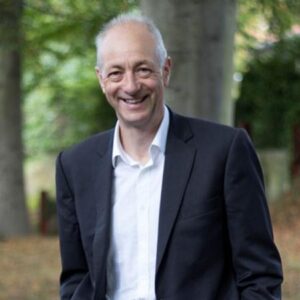 'Bipolar disorder can be a devastating condition that seriously affects the lives of many people across the world. We know from the recent Bipolar UK report Bipolar Minds Matter that people with bipolar disorder are currently poorly served by health services and research into bipolar disorder has been seriously neglected by major funders. And yet, I am confident that we can do so much more for people with bipolar disorder, both by designing better specialist services and by extending our current research into therapies and self-management using the True Colours system. This generous gift from the Page legacy, working with the Biomedical Research Centre and NIHR Mental Health Translational Research Collaboration, will enable us to scale up our research and transform the care of people with bipolar disorder.'
After the deaths of Jane and John, family friend and retired lawyer Adrian Miller helped to settle their estates. Knowing their desire to support research into the causes of and cures for bipolar disorder, he began looking into institutions where their legacy could assist research and make a significant impact on both treatment and patient empowerment. He eventually settled on Oxford.
Adrian said: 'Having finally narrowed the field down I watched Professor Geddes' video and thought: this man fits. When we spoke together, he clearly demonstrated a compassion for those who suffer this life-limiting illness. I could sense his urgent wish to get it right for people who are so burdened by bipolar disorder and his desire to find out what causes it and how to cure it. Further investigation reassured me that Professor Geddes' approach and philosophy accorded closely with those which John Page so clearly articulated during times of calm and clarity. All who knew him will be immensely pleased that this funding will help deliver lasting benefits for people afflicted with this unkind condition, and hopefully find the key to breaking its cycle completely.'
Gifts in wills, like the one left by the Page family, play a vital part in Oxford's success, helping to shape lives for generations to come. If you would like to find out more about making a lifetime gift or leaving a legacy to the University, please contact Spencer Wisdom (07873512426 / ).
To find out more about supporting the work of Oxford Health NHS Foundation Trust through a legacy or donation, please visit the Oxford Health Charity website.
We are sorry you did not find this page helpful
Tell us how we can improve this page