Behind the screens, keeping us safe
Oxford Health's Server Team were surprised and delighted to be recognised as highly commended in the May round of Exceptional People Awards.
Server and systems consultant Matt Coleman said:
"If everything goes as it should, we are not known about!"
This was noted in the team's nomination, which said:
"The server team are invisible to the most of our staff, but their work and diligence fundamentally keep our Trust safe against IT failure, cyberattacks and other malicious activity. Their work is crucial for the Trust functioning, and their significance would probably get noticed only if something went wrong.
The nominator continued:
"I'd imagine few people know of this team and how fundamental their contribution is, so I'd like to shine a light on their work. Occasionally I have also needed to ask for unusual pieces of work, due to the nature of my work, and the team have always responded in a swift and friendly manner."
The team received their certificate at Littlemore garden in a sunny spell between showers last week and had a chance to tell a bit more about their 'hidden' work.
In the picture above:
Server and Systems Consultant David Neill, IT Infrastructure Manager Darren Rodgers, Server and Systems Consultant Matt Coleman, Server and Systems Engineer Tom Herbert and Server and Systems Engineer James Steyn. 
The team also includes Cyber Security Consultant Colin Ingham, Cyber Security Engineer Lawrence Harvey, Server and Systems Engineer James Tharby and Desktop and Application Engineer Jonathan Dempsey.
Cyber security a growing challenge
The Server Team are responsible for all data and data back-ups at the Trust. They have been integral in the Trust's adoption of the Office 365 and the move to cloud-based systems where Oxford Health are quite leaders in the NHS.
An ever-growing challenge in their work is cyber security. IT Infrastructure Manager Darren Rodgers said:
"Cyber security is now a culture within business, and we all have a part in keeping the Trust safe and secure."
So, the security mechanisms that some may find inconvenient, are there to keep each individual and the Trust as a whole safe.
And if the team can give out one message to all staff, it is:
"Be careful what you click."
Nominate now for June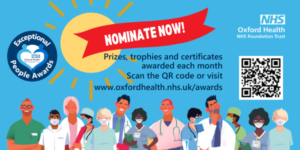 Give someone special or a super team a place in the sun – nominate them for Exceptional People Awards! Closing date for June submissions is June 15.
However, nominations are accepted at any time, so if you miss a certain month's deadline, your nomination will simply roll into the following month.  Fill in a nomination form online here.
We are sorry you did not find this page helpful
Tell us how we can improve this page