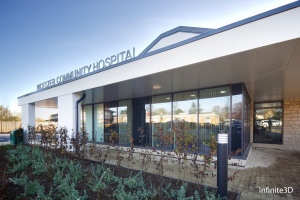 The first patients are now being cared for in the new Bicester Community Hospital, which has been built in 18 months and has opened its doors today (Thursday 11 December).
The hospital is designed with patients and their wellbeing at its core, offering 12 individual rooms – each with direct access to a central garden.
New facilities include a first aid unit and imaging (x-ray) and physiotherapy suites, as well as space for other therapies and out-of-hours care to be delivered.
There has been a community hospital in the Oxfordshire town for more than 100 years and residents have been keen to see a new one built for some years.
The procurement of the new hospital was agreed in 2011 by predecessor NHS organisations, including the former Oxfordshire PCT and South Central Strategic Health Authority.
A competitive process saw Kajima Partnerships selected as the preferred development bidder, with Balfour Beatty as builders and FES FM as facilities managers.
The project was taken up by Oxfordshire Clinical Commissioning Group and NHS Property Services when they came into existence in April 2013. Work began on-site in June 2013 and has now completed.
Clinical services within the building will be provided by Oxford Health NHS Foundation Trust.
Chief Operating Officer at Oxford Health NHS Foundation Trust Yvonne Taylor said: "We are delighted to have moved into this purpose-built community facility which provides an excellent modern and safe environment to deliver community hospital services and care to local people."
James Wakeham, South Regional Director for NHS Property Services, said: "We are delighted to have been able to deliver this eagerly-awaited building project to the community of Bicester. I would also like to thank all my colleagues locally who have enabled this to be accomplished.
"The new hospital will be easier to maintain, clean and manage, while being more adaptable to changing needs and technologies. Needless to say, it meets all modern statutory requirements, building regulations and NHS design guidance."
Land on the site also has planning permission for 14 homes.
Dr Stephen Attwood, a Bicester GP and CCG board member, said: "The CCG is delighted that the new hospital is now open for patients.
"It is the result of a lot of hard work from Oxford Health NHS Foundation Trust, NHS Property Services, Kajima, Mansell, FES FM, Oxford University Hospital NHS Trust and South Central Ambulance Service Foundation Trust.
"These excellent new facilities will provide us with a wonderful opportunity to develop medical care closer to patients' homes. After a period to allow the clinical services to settle in to the new building, we plan an official opening next year."