Busy and brilliant Bicester team praised for the care and attention they provide
It's Five Star Friday and what better way to mark it than highlighting some of the top-rated feedback from patients demonstrating how much they value our #oneOHFT team who have been caring for them on our ward at Bicester Community Hospital.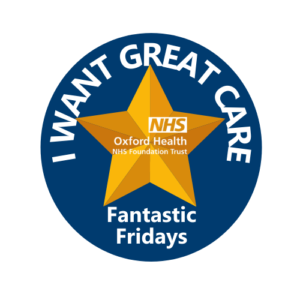 All patients and service users of Oxford Health NHS Foundation Trust are encouraged to provide reviews of our teams and care they provide on the independent IWantGreatCare website.
This feedback not only helps us listen to patients, family and carers, but also enables us to make improvements as we strive to uphold our values of being 'Caring, Safe and Excellent'.
One of the latest reviews from patients stated: "Care here is absolutely brilliant. Would give 20 stars if I could. There is a young cadet at the hospital who has been wonderful to me."
Another patient took time to report: "Everyone is lovely. They have taken good care of me. Looked after me very well." A third commented: "The staff have been lovely and very supportive. Any improvements? No, nothing!"
Other comments recognised how busy the team is. One patient said the reason they left a review was because they could see "the amount of work the staff do."
And added: "They still gave me great care and attention, despite being very busy and looking after other patients."
The ward at the community hospital in Piggy Lane, provides inpatient rehabilitation and palliative care for people no longer requiring acute care. It has 12 beds and a dedicated multi-disciplinary team including nurses and occupational therapists.
And it is supported by GPs and gerontologists (doctors specialising in the care of older people) and staff work closely with social services to source care placements and liaise with other care agencies.
Senior matron for Oxford Health's community hospitals Helen Hunt said: 'It's always a huge morale boost for our teams to get such wonderful heartfelt reviews from patients. They are always at the heart of everything we do. We take on board positive feedback to learn what we are doing well as well as listening to the areas where we can improve upon while they are in our care. This all influences care for the next patient."
To find out more about Bicester Community Hospital click here.
We are sorry you did not find this page helpful
Tell us how we can improve this page
Published: 28 January 2022