Carers Week 8 – 14 June: Make caring visible
Identifying as a carer opens up doors to support for yourself
Carers Week is an annual campaign to raise awareness of caring, highlight the challenges unpaid carers face and recognise the contribution they make to families and communities. It also helps people who don't think of themselves as having caring responsibilities to identify as carers and access much-needed support.
This year, because of the Coronavirus, many people are taking on more caring responsibilities for their relatives and friends who are disabled, ill or older and who need support.
They need to be recognised for the challenges they are experiencing, respected for all they are doing, and provided with information, support and understanding. Hence the theme Carers Week 2020 is Make Caring Visible.
Carers' lead Di Hilson from Oxford Health NHS Foundation Trust says:
"Many people who care for someone do not identify as carers. They rather see that they are a daughter, or a brother or a spouse, and 'just' looking after their loved one. We really encourage people to ask themselves: am I looking after someone – am I a carer?
Di adds: "If we help people recognise they are a carer then this opens up the doors to the rights that they have for help and support they may need, such as a carers assessment.
This year's Carers Week at Oxford Health is quite different from the past with no events or coffee mornings. But Di has collated activities from the trust network and partners to boost your mood and give you a bit of 'me time'.
Why not try a mindfulness session?
Caring for someone can mean you are rushing through life without stopping to notice much. Paying more attention to the present moment – to your own thoughts and feelings, and to the world around you can improve your mental wellbeing
Find out more about the benefits of mindfulness .
Try a mindfulness session with the University of Oxford Mindfulness Centre. There are three free online sessions on 10th June, 17th June and 24th June.
Further info and how to access
Care for a chat?
Our befriending phone line launched last week. Carers can call 01865 901012 at any time and leave their details. A befriender will call back between 11am and 12 noon, Monday to Friday.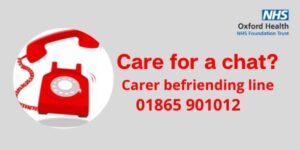 The line is not for emergencies and responders will not have access to any clinical information or be able to answer questions about a patient's care. It is purely to support a family member, friend or carer.
"Taking a little time to talk to one of our befrienders may help brighten your day and help you feel less alone. I want to encourage our carers to pick up the phone and give us a call," Di says.
The service is being supported by staff and volunteers from Oxford Health, offering volunteers also a new role at a time when many can't do their normal roles. The phone line itself has been funded through the Oxford Health Charity as part of the NHS Charities Together grant.
Why not try something new?
Oxfordshire and Buckinghamshire Recovery Colleges are offering courses online. Carers are welcome and it's free. You just need to register.
Coping with stress and anxiety, healthy sleep and cooking on a budget are among some of the subjects being offered.
Oxfordshire Recovery College summer courses
Buckinghamshire Recovery college summer courses
Why not contact your local carers organisation?
Carers' organisations are listening and helping carers of all ages, including young carers and parent carers get through this unprecedented time, giving them practical advice, support and information.
Find out where you can get support in your local area and the types of support that is available.
Could talking therapies help?
If you are looking after someone and experiencing anxiety, stress or low mood then Oxford Health talking therapies services may be able to help you.
Call 01865 901600
TalkingSpace Plus in Oxfordshire
Call 01865 901222
Become a member
Become a member of Oxford Health to keep up to date of all of our developments, including our support for carers.
We also have three seats in Council of Governors dedicated for carers, and our lead governor Chris Roberts is also a carer governor. Read his recent interview here.
We are sorry you did not find this page helpful
Tell us how we can improve this page