Celebrating our peer support worker graduates
The sense of joy and achievement were palpable when 43 peer support workers celebrated their graduation from Oxford Health's training programme yesterday (June 29) with a whole-day event in Thame.
Although many of the graduates have already taken up roles in the Trust and progressed in their careers, this was the first celebration in two years and, for many, the first time they met each other in real life.
Master of ceremonies, Recovery and Social Inclusion Lead Vicky Naidoo spoke for many when she said: "I am so glad we can now celebrate together!"
Ticket to go out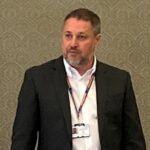 Associate Director of Psychological Services Bill Tiplady welcomed the graduates and, fittingly for the event, reflected on his own graduation.
"Understanding the importance of peer support comes down to how we value different sorts of knowledge. I learned so much from my training but graduating is a bit like a getting a driving licence: it allows you to go on the road where some of the real learning begins.

"Such a big part of my role is to absorb and pass on what I have learned from service users about their strengths and strategies. As peer support workers you have your own experience to draw on, and you can now go and absorb and experience. And if you need support or face difficulties, my door is always open."
Holding the hope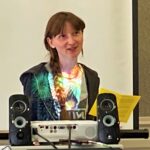 Peer support worker Ruth Eames gave a candid and inspiring talk about her journey from challenging childhood and teenage years to diagnosis, treatment and recovery.
"It took me a long time to start thinking what happened to me instead of what's wrong with me," she said.
Ruth now works as a peer support worker at the Wintle ward, and inpatient mental health ward at the Warneford Hospital. She had a powerful message to the graduates:
"As a peer support worker, you can hold the hope for someone who doesn't feel they have any hope. I was that person until I started to feel listened to, validated and understood.

"Those moments, when you do what looks like nothing; just sit with someone, maybe do some colouring – they are huge. That's when you are holding the hope for them."
Transformative support
Support from a peer support worker can be transformative to a patient. Sharing mutual experiences can ease the sense of isolation, and a peer support worker offers a tangible example that recover is possible.
Fran Lovett, occupational therapist and acting deputy manager from the Bucks Early Intervention Service gave the graduates a brief presentation of how peer support was introduced in the service and recounted a case study.
"Client X started working with a peer support worker two years into her time with the Early Intervention Service. Initially no specific goals were identified but the theme of self-love emerged. Collaboratively she and the peer support worker came up with activities focusing on self-compassion, and this was pivotal in Client X becoming an active participant in her own recovery."
How to become a peer support worker
Peer support workers are people who use their own experience of mental health challenges to help others. Oxford Health now has now trained 86 peer support workers in total, and around 40 are in paid roles with the Trust. There are ongoing plans to expand and diversify the programme.
Aspiring candidates first join the Trust as volunteers. They undertake a 12-day training programme and do volunteer placement. After a successful competition, they have an opportunity to follow a recruitment process for a paid role.
Oxford Health is currently recruiting for peer support worker trainees in Buckinghamshire. See all the details and how to apply here.
Congratulations to our graduates!
The graduates who received their certificates come from a combination of Oxford and Buckinghamshire training cohorts, and now work across many Trust services including inpatient, community, perinatal, crisis services and early intervention.
Congratulations to all our graduates! They are:
Caroline Newnham
Jane Hough
Tycen Clarke
Maya Janecka
Jenny Welham
Becky Whitelock
Fiona Jobson
Hayden Peerless
Julie Seward
Mhairi Garner
Neil Brown
Rob Desantos
Sue Twelftree
Donna Buckingham
Emma Kahl
Kevin Fuller
Linda Thomson
Liz Shire
Aideen-Niamh O'Neill
Dejan Volf
Kasia Gryszczuk
Laura Boyland
Marina Kaplais
Ruth Marrison
Sam Davies
Zenia Morrison
Anagha Sharma
Annesah Sharma
Chalissa Lau
Danielle Harding
Em Dorsett
Emily Allen
Henry Alexander
Lorna Collins
Louise Bailey
Peter West
Suz Hemming
Claire Foley
Debbie Hill
Nathan Berry
Thomas Bucknall
Vivienne Gleave
George Peebles
We are sorry you did not find this page helpful
Tell us how we can improve this page