When Clinical Psychologist Julie Elsworth and Senior Learning Disability Nurse Tracy Scott were told a carer had reported they clearly have passion for their role, they agreed it was lovely to feel they had made a difference to someone through their work.
The Oxford City Community Learning Disability #oneOHFT team supports adults with learning disabilities in Oxfordshire – and the people who support them – to maintain good mental and physical health.
All patients and service users of Oxford Health NHS Foundation Trust are encouraged to provide reviews of our teams and care they provide on the independent I Want Great Care website.
This feedback not only helps us listen to patients, family, and carers, but also enables us to make improvements as we strive to uphold our values of being 'Caring, Safe and Excellent'.
One carer who took the time to leave a review recognised the support of Julie and Tracy and commented on how "resourceful and creative" they are with how they approach their work.
"They clearly have passion for their role and are always a pleasure to work with as they care about the people they support," said the carer.
"Creating solutions for people with learning disabilities is what they are both very good at. I am always very pleased to work with Tracy and Julie. It is always a pleasure."
They added: "Humility is a good quality to have and to be able to use this within their role to support others to improve the quality of life for vulnerable adults is wonderful to witness and be a part of.
"They are kind, caring and knowledgeable. I am very pleased with the outcomes that Tracy and Julie create."
Julie said: "It was lovely to feel that Tracy and I had made a difference to someone through our work as that is always what we are hoping to be able to do."
Tracy commented: "It is nice to hear that someone took the time to give feedback. Everything we do is about working in partnership with the people we support, their families and carers.
"It has been a challenging time for everyone, so it is always nice to hear about positive outcomes for the people we support."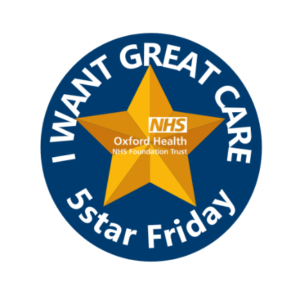 The team can support adults with a learning disability whose health needs cannot be met by other health services in Oxfordshire and can offer assessment and treatment and consultation across seven different health care pathways.
There are occupational therapists, learning disability nurses, physiotherapists, psychologists', psychiatrists, and speech and language therapists.
Emma Short, Team Manager for Oxford Health's learning disabilities and Queen's Nurse, said: "The Oxford City staff team are 5* all the way for me and having someone recognise individually excellent work, consideration, respect and ultimately good outcomes for someone with a learning disability is confirmation this is the case.
"Julie and Tracy have worked for decades – I hope they don't mind me saying – making a difference to people with a learning disability in Oxford.
"The skill set required to work holistically across many different health areas for individuals is not to be underestimated.
"The work is complex, far ranging and requires careful assessment and planning and good communication skills across a wide area of support structures and colleagues from different providers for these individuals.
"I feel lucky to work alongside them."
For more information about the services provided click here.
We are sorry you did not find this page helpful
Tell us how we can improve this page
Published: 18 February 2022