DAISY award for 'extraordinary' Jo
The DAISY Awards put the great work and compassionate efforts of Oxford Health nurses in the spotlight throughout the year.
And while every winner and nominee represents someone special who truly makes a difference, every so often a nomination is made that really stands out.
Jo Riley leads the Trust's countywide respiratory and home oxygen service, which she set up 22 years ago, and is also a specialist respiratory nurse.
She was nominated by the son of a patient who she supported in her nursing role. Chris Swindale, who also happens to be a colleague, felt that the care his mother had received from Jo was well worthy of recognition and filled in a nomination form.
Every DAISY award presentation is a surprise for the winner, and Jo's was no different. She didn't suspect anything when Chief Nurse Marie Crofts and Deputy Chief Nurse Britta Klinck called her and colleagues to a meeting.
Jo explains: "I was called to a meeting in our office and I had no idea whatsoever what the meeting was about. I still didn't realise it was me when they said someone in the room was a winner!
"I was very humbled to be honoured for something I do and take pleasure in. Nursing is what my life is about. The job is really who I am and I have also done voluntary work abroad and given training in UK and Bangladesh on breathing and asthma.
"The nature of many nurses means that they don't put themselves for awards as to them what they do is not extraordinary. But to those they work with it's a different story."
To find out just what makes the work nurses do so valuable you only have to look at the nomination that won her the DAISY award.
Chris Swindale explained: "I have first-hand experience of Jo both as a relative of a patient and as a colleague.
"My mum was 68 when she died on New Year's Day 2022. The two months prior to this, she had been in and out of hospital with breathing problems and was eventually diagnosed with a mass in her lung. She spent the last two weeks of her life in hospital, with only one visitor allowed per day, for an hour at a time.
"In her role as a nurse Jo spent time with my mum, talking to her about anything, supporting her and making sure she was ok when family weren't allowed to be in the hospital, and this was such a great comfort knowing that someone else was able to check on mum during that time.
"As a colleague Jo also was such a huge support to me personally during this time, when we got the news about different diagnoses, problems and prognosis of mum's condition. Not only was she able to sort out any work duties that I maybe had to leave, but she was also there to talk to me on a personal level whenever I needed it, and she did all of this around continuing to do her usual job, which is also absolutely amazing to see her do and learn from her.
"Since mum died, I have had the pleasure of spending a bit more time with Jo and have realised that she provides this level of care and support to all members of our team when they are having personal problems, when family members are ill, or whenever anyone just needs someone.
"I would like to say a huge "Thank you" to Jo. She is truly extraordinary."
Oxford Health's Chief Nurse, Marie Crofts, said: "Presenting the DAISY awards is an immense pleasure and every nomination represents an exceptional contribution that a nurse has made to someone's life.
"Just the simple act of filling in the form shows what an amazing positive impact a nurse has. We see so many personal stories and the judging is a very emotional process – but perhaps not as emotional as the presentation when it dawns on the recipient what is happening.
"I would urge anyone who has received exceptional care from one of our nurses to put a nomination in. As Jo says, nurses don't put themselves forward for awards or praise, but as you can see from Jo's story, they deserve it."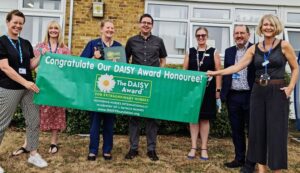 We are sorry you did not find this page helpful
Tell us how we can improve this page