The Occupational Therapy (OT) kitchen is used on a regular basis as part of the rehabilitation programme, ensuring that people are ready to go home and carry out daily activities safely.
The kitchen is situated in the middle of the building with no windows and was very plain and sterile. However, by painting two "trompe l'oeil" style window murals featuring scenes from the beautiful garden at the hospital the Oxford Health Arts Partnership team has brought the outside in as well as colour and warmth into the kitchen space, making it more homely.
The project was delivered by OHAP artist in residence Dionne Freeman, who is also leading on the 'What makes Didcot brilliant' project, which is supported by Oxford Health Charity and funded through the National Lottery Awards for all Scheme and is based at the hospital. Dionne worked with assistant artist Vickie Kearney to co-design the mural with patients and staff.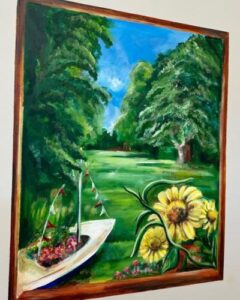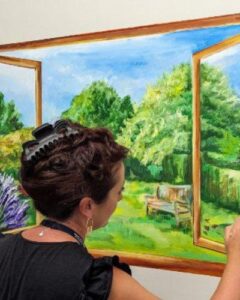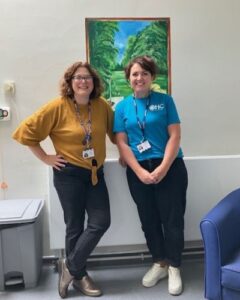 We are sorry you did not find this page helpful
Tell us how we can improve this page
Published: 4 October 2023