Oxford Health has done innovative work to improve the treatment of these disorders. A House of Commons debate on Tuesday to mark the week highlighted how our pioneering use of enhanced cognitive behaviour therapy (CBT-E), developed with Oxford University, has reduced readmissions for people with anorexia by a remarkable 70% in a year.
This year's theme for Eating Disorder Week is men. According to a survey by BEAT, one in five affected are men, but their symptoms often go unnoticed, with one in five never speaking out.
Former Oxford Health patient Mollie, 23, received CBT-E treatment at Cotswold House, our specialist adult service in Oxford. She has an inspiring story of hope for everyone affected by eating disorders, whatever their gender.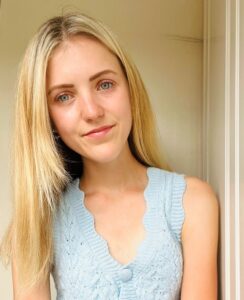 Mollie said: "Now I am in the best place I have been and I never thought I could ever be at this point where I am truly living and building a healthy life for myself, doing things that I never thought I could. This is the happiest I have been."
Reflecting on her 10 inpatient admissions and being sectioned five times, she said: "It got to the point where I lost a lot of hope and I think people around me were losing hope too. No one thinks you can ever get better after this long and stop being a revolving door patient."
Mollie, who nearly lost her life to the illness, is now two years into recovery. She works part-time in a fashion business, does yoga, has taken up tennis again – and is going to university after 11 debilitating years with anorexia.
She adds: "The life I am living now, I am a completely different person. I never thought I could get here. I am independent, I am meeting friends, I am laughing and smiling, my relationships have grown. Sometimes it hits me because I never thought that any of this would be possible for me. I know my story can help other out there in the same position as me. I know people can get better however long or however many hospitals admissions they have had. There is hope."
In a message to other patients, she said: "However long you have been unwell for, or however many hospital admissions you have had, there is still hope that you can get better. Never give up.
"It's very important men get the care they need. It shouldn't be missed. I've only met a couple of males throughout all the 10 years of inpatient admissions I've had. Sometimes you don't have any beds for men on the wards. They should still be treated the same as girls and women."
There's information about eating disorders from the charity here and you can watch this video about men and eating disorders.
Dr Agnes Ayton, Mollie's consultant psychiatrist at Cotswold House, said: "Thank you Mollie for helping raise the profile of eating disorders – it's helps more people identify when they or someone they love has a problem and gives reassurance that you can recover from an eating disorder even if you've been ill for a long time. And it is vital we encourage boys and men to come forward and seek help."
Agnes is also Clinical Director of HOPE (Healthy Outcomes for People with Eating disorders), the Adult Eating Disorder Collaborative and winner of last year's prestigious NHS Parliamentary Award for Excellence in Mental Health Award at 2022.
Read about Cotswold House to find out how you can start to get help.
We are sorry you did not find this page helpful
Tell us how we can improve this page