Fabulous Buzz at Oxford Pride
Staff and volunteers celebrated and showed their support to the lesbian, gay, bi, trans, intersex and queer life in the county.
There was a fabulous buzz at Oxford Pride on Saturday afternoon. Oxford Health had a stall shoulder to shoulder with our partners from Oxfordshire Mental Health Partnership, and there was a great interest in our services, treats and especially in the photo frame managed by our staff and volunteers.
Nursing associate trainee Abbie Rix was enjoying the day.
"I came along to support Oxford Health because I am gay and brave," she said. "I want to show that our trust is open to everyone. My nursing associate course has already shown to me that that is the case; we are a very diverse group. "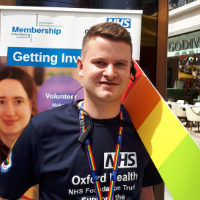 Alfie Daly,  Chair of the LGBT Equality Staff Network at Oxford Health and Manager for Out of Hours and Minor Injury Units across Oxfordshire, took part in the march from Radcliffe Square to the Castle Quarter and then spent the afternoon photographing eager guests at the stall.
"The atmosphere is fantastic and great fun," he said. "Events like this are really important. We can show to the community that we support them and care for everyone."
Lindsey from Elmore and Ruth from Oxfordshire Mind were representing their organisations which are part the Oxfordshire Mental Health Partnerhsip.
"This is an important event, and it's important for us to be here today. There's a lot of buzz and lot of interest."
Patient experience and involvement lead Diane Statham from Oxford Health came along to celebrate as well as to support.
"I work with children and young people, and we really want to make sure that our services are inclusive. As a society we need to do a lot more to make people feel comfortable with who they are," she said.
Experts by experience Jorik Mol and Josh Lapper came to Pride to celebrate and to promote an up-coming event Autism Pride. Jorik is passionate about both causes.
"I have been thumped in the head because I'm gay, and lost jobs because I'm autistic. We have a long way to go," he explained.
"Our Autism Pride is the first ever event of this kind, and autistic people of all ages and their supporters are welcome. Please bring your own picnic!"
Autism Pride which will be on Saturday 22 June from 12 noon to 4pm by the Natural History Museum in Oxford.