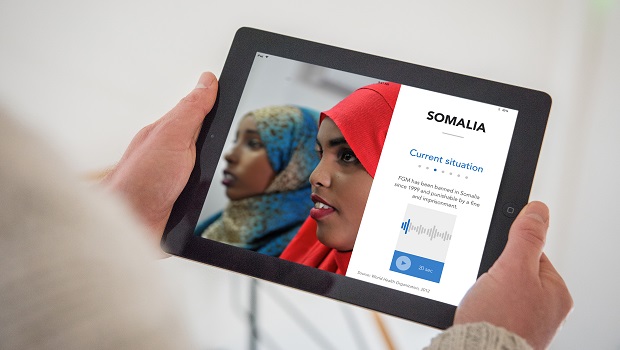 FGM app now available as website
Our award-winning app enabling discussion about female genital mutilation now available for all devices.
1 December 2017 | News
The award-winning 'Let's talk FGM' app is accessible from any web browser on smartphones, tablets or PCs.
The 'Let's talk FGM' app, designed by Oxford Health public health nurse Joanne McEwan to facilitate discussion on female genital mutilation (FGM), is now available on letstalkfgm.nhs.uk. The content is also available as an app for i-pad devices: go to the app store and search for 'Let's talk FGM'.
The website includes multilingual information about the impact of FGM, why it happens, the law, and how to protect children. It also now includes interviews about the work that men are doing in their communities to prevent FGM, as well as interviews of FGM survivors. It also includes improvements based on feedback on the first version of the 'Let's talk FGM' app.
Joanne McEwan regularly came across survivors of FGM during her work as a health visitor in Oxford. "FGM is a difficult subject to discuss," she said. "I wanted to produce something that could help professionals enquire sensitively about FGM."
Joanne worked with the local campaign group Oxford Against Cutting, as well as Oxford Health and Oxford University Hospitals NHS Trusts, to design an app originally aimed at health professionals.
The app was then developed by the Oxford-based digital agency White October, and went on to win several awards, including the Gold award in the digital health category at the London Design Awards, and nominated for the 2017 Creative Tech Award.
Joanne also found that the app was a useful tool for the community at large, and hopes that the new web version means that more people will be able to use it.
The web version also includes improvements based on feedback on the first version of the 'Let's talk FGM' app.
Improvements include:
Arabic and French audio clip translations of key section
Updated information
A new 'Men speak out against FGM' video
A UK county section
Detailed map
Last updated: 12 January, 2018