Five star champions – teams celebrate getting top marks in patient feedback
Urgent care, health visiting and district nursing teams consistently earn maximum scores
Everyone likes to be praised for a job well done and our patients and service users have been giving top marks to our community services teams for delivering exceptional care.
iWantGreatCare (IWGC), the nationally recognised and independent feedback site, encourages people to register views on their care, say thank you and help the next patient by improving experiences and is available for the majority of trust services.
Polling in the top three in community services in June with a 5/5 score was the Emergency Multi-disciplinary Unit (EMU) and Wenrisc Ward at Witney Community Hospital and the Rapid Access Care Unit (RACU) at Townlands Hospital in Henley.
Scores on the independent IWGC website measure views on dignity, respect, involvement, recommendations, information and our staff. While the top three scores are calculated based on the volume of feedback received, many other services got top marks too.
The five star champions league – June
Abingdon College Nurse
Abingdon Health Visiting Team
Banbury District Nursing Team
Bartholomew School Nurse
Bicester Community Hospital Ward
Buckinghamshire Perinatal Team
Burford, Bampton & Broadshires District Nursing Team
Central Bicester Health Visiting Team
Children's Integrated Therapies – Physiotherapy Team
Didcot Health Centre District Nursing Team
Didcot Health Centre Health Visitors
European Secondary School Health Nurse
Faringdon and Shrivenham District Nursing Team
Henley College Nurse
Home Oxygen Assessment Service
Kidlington and Islip Health Visiting Team
King Alfred's School Nurse
Nutrition and Dietetic Service
Orchard Health Visiting Team
Oxfordshire BCG Immunisation Programme
Respiratory Service
SE Oxfordshire Community Therapies Service
St Birinus School Health Nurse
Wallingford Community Hospital St Leonard's Ward
Wallingford First Aid Unit
Witney Health Visiting Teams
June saw 950 IWGC responses with 96.6% stating they would recommend the care our staff have delivered to other people. It was the highest percentage score of the last quarter for community services at the trust.
In May, Abingdon Community Hospital's EMU, Witney and Eynsham District Nursing Team and the Wheatley, Watlington and Chalgrove District Nursing Team took the top three slots.
Abingdon's EMU was in prime position again in April alongside the Witney EMU and the Family Nurse Partnership.
Kathy Ruane, senior clinical lead in the urgent and ambulatory care service for Oxford Health, took to Twitter to celebrate: "Well done to our fantastic Witney Emergency Multidisciplinary Unit on their I Want Great Care results."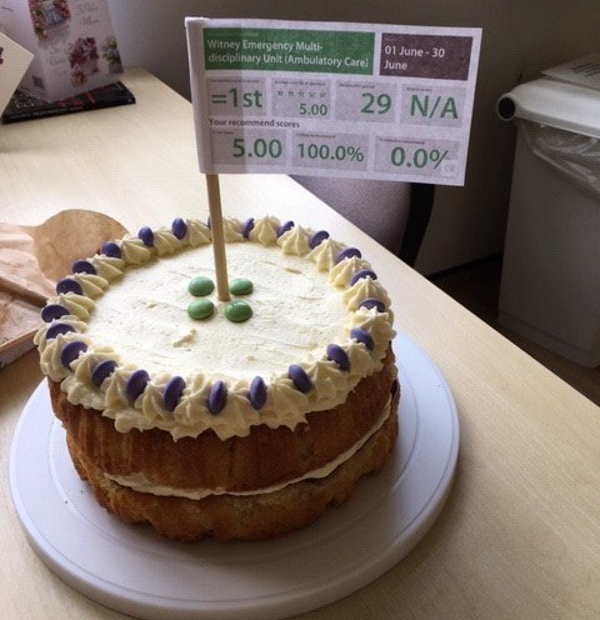 She said the team celebrated with a special cake, adding: "I am very proud of all the urgent and ambulatory care services, with Witney EMU, Abingdon EMU and the Rapid Access Care Unit in Henley all featuring in the top three for the last three months, with our Minor Injury Units (MIUs) and GP Out of Hours Service all scoring very highly in the ratings."
iWantGreatCare, is a service that is independent, secure and trusted by patients, doctors and hospitals: feedback is totally confidential, and collected and processed only by the independent organisation.
Read our latest iWantGreatCare score report to find out more.
We are sorry you did not find this page helpful
Tell us how we can improve this page