Francesca's 'we can do this' attitude commended in Exceptional People Awards
Consultant psychiatrist Dr Francesca Battisti at the Cotswold House Eating Disorder Service in Marlborough has become highly commended in Oxford Health's Exceptional People Awards for her motivating leadership and 'we can do this' attitude.
Vicky Bradley, Acting Modern Matron at the Cotswold House told:
"Dr Battisti was presented with the highly commended certificate in our team meeting to her great surprise! Dr Battisti is hugely appreciated by the ward and community team staff. She works so hard to give our patients the best care while always ensuring that staff are supported and listened to."
Dr Battisti had been nominated by sessional charge nurse Carol Bennett who wrote:
"Francesca has provided the service with clear leadership and support throughout the pandemic, utilising her own skills and personal strengths to support the team as we moved through the challenges of these past two years.

"Whilst everyone in our team has been amazing in how they have all pulled together to ensure continuity of care for our patients, it is the diligence and care Francesca has shown to the staff in ensuring they are able to work within the parameters of COVID and its changing demands on services and staff.

"She has always ensured staff are able to contact her to get advice and support over issues as fast changing demands were made of the team. At no time did the team feel we could not seek her advice, reassurance and guidance when addressing how to manage the needs of our service for ourselves, our patients, and our carers.

"However, the one thing that stands out for me in the past six months has been how she has nurtured a sense of 'we can all do this' around a very challenging clinical picture within the inpatient service. When staff were floundering and short of energy and hope for a particular individual, Francesca kept us buoyant with her calm, kind, and ever positive outlook on the situation. She never lost sight of the individual and their family at times when staff were struggling to see a positive outcome. The work she did with the senior team to embrace ways to help this person, keep the team positive and forward thinking and utilise all aspects of individuals' knowledge, strength and advice made our team even stronger and enthused to work with this person in extremely difficult circumstances. We are so pleased that we were guided and led by her to get the optimum outcome for the patient, their family and ultimately the rest of our patients in the future.

"We are happy to reflect how she led us through this particular struggle, giving us constant reminders of how we can do this, never losing faith in the team she leads, and we have all grown stronger as a result. Her constant reminders of our own strengths have motivated and reminded us of what a privilege it is to work here."
Nominate now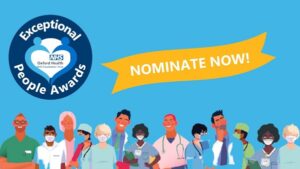 Have you come across a team or an individual you feel really makes a difference? The nominate them for Exceptional People Awards! Nominations are welcome at any time from patients and service users, their carers, friends and family, and Trust colleagues. Find the nomination forms and rules here.
We are sorry you did not find this page helpful
Tell us how we can improve this page
Published: 9 November 2022