Another Oxford Health NHS Foundation Trust service is celebrating ten years of helping thousands of patients.
Abingdon Emergency Multidisciplinary Unit (EMU) first opened its doors in 2010 to offer an alternative to acute hospital admissions for sub-acute needs. The service provides an urgent assessment and treatment service aimed to reduce admissions to the acute hospitals.
EMU offers a comprehensive, multidisciplinary assessment supported by rapid 'point of care' diagnostics and treatment plans. It provides a seven-day service to the local community supporting care closer to home and can treat people with multiple, often complex problems, many of whom are frail and elderly.
Most patients are treated during the day and return home following their treatment which may involve attending the unit over several days but returning to their own home every evening.  EMU has access to six short-stay inpatient beds on the community hospital rehabilitation pathway, which patients can occupy for 72 hours.
Dr Nick Broughton, Oxford Health's CEO, visited the team in person  to help celebrate the big birthday and said: "I am delighted to see another innovative Oxford Health team celebrating their tenth birthday.
"It is really pleasing to meet the people who are working hard to keep services like this running and I know that the patients who visit the EMUs appreciate everything that is done there.
"I also have to say how proud I am of the work they are doing during the pandemic. Oxford Health is very much open for business and the staff play a massive role in that achievement."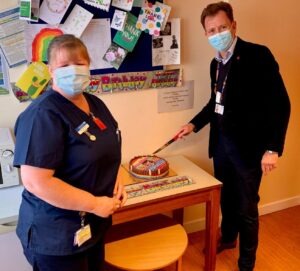 Jackie Southgate, Clinical Lead at Abingdon Community Hospital, said: "It doesn't seem like ten years since we first started and yet, when you look back, there is so much for the team to be proud of.
"The EMU service is all about caring for patients closer to home and our point of care diagnostics give rapid results enabling patients to be treated within half an hour of arrival.
"This allows patients to receive intravenous treatments and fluids quickly in a personalised, caring environment, therefore helping to keep the pressure off acute hospital services and improve patient experience.
"Feedback suggests that patients prefer to come to EMU as they are seen and treated promptly with a personalised approach.
"The team work really hard and pride themselves on the exceptional care they deliver. This year has been extra challenging, and staff have excelled themselves.  It has really lifted sprits having this milestone to celebrate and Nick visiting the unit.  Everyone who works for EMU appreciated meeting the CEO especially during these times."
Patients are referred to the EMU by their GP, the ambulance service, acute trust, district nurses or specialist nurses.  This is an open referral process for patients over 18 in a population of approximately 140,000.
The EMU service works closely with the Hospital at Home team, who are also celebrating their tenth birthday.
We are sorry you did not find this page helpful
Tell us how we can improve this page
Published: 9 November 2020