Help us name our new dental health characters
Oxford Health NHS Foundation Trust needs the public's help to name two new characters for its dental health services. The cartoon superhero tooth and his villain counterpart were designed by local artist Genna Byrne and will appear on Oxford Health's dental resources and websites to promote healthy mouth messages. Oxfordshire Salaried Primary Care Dental Service ... Read more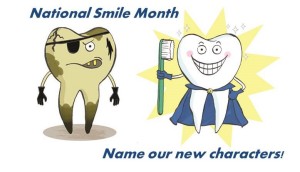 Oxford Health NHS Foundation Trust needs the public's help to name two new characters for its dental health services.
The cartoon superhero tooth and his villain counterpart were designed by local artist Genna Byrne and will appear on Oxford Health's dental resources and websites to promote healthy mouth messages.
Oxfordshire Salaried Primary Care Dental Service provides specialist dental services for people with additional needs.
The trust is looking for two names for the characters which will appear on materials in the future, to help children and adults that use Oxford Health's specialist service. The winner will also win a dental health pack, containing a year's supply of goodies to keep a super smile.
The competition is being run alongside Nation Smile Month – the UK's largest and longest running oral health campaign, running from 18th May – 18th June. The campaign involves thousands of organisations and individuals promoting the three key messages:
Brush your teeth twice a day for two minutes with a fluoride toothpaste
Cut down on how often you have sugary food and drinks
Visit the dentist as often as they recommend
Gemma Strachan, advanced health improvement practitioner for the Oxfordshire Salaried Primary Care Dental Service said: "We have two new characters which we hope will help motivate the children and adults that visit our clinics.  Many of our service users have additional needs and so require specialist services.  It is important that visiting the dentist is a positive experience and we hope these characters will help make visits more fun whilst sharing the messages of the importance of brushing your teeth and having a healthy mouth."
To enter the competition, send your entry and contact details to oral.health@oxfordhealth.nhs.uk, post to Dental Service Health Promotion Team, 63 Blackbird Leys Road, Oxford, OX4 6HJ or comment on the trust's Facebook page by searching for Oxford Health NHS Foundation Trust.