High marks for the Highfield
Another Oxford Health team are in the spotlight following a series of independent five-star reviews on the I Want Great website.
The Highfield unit situated at the Warneford site provides support to adolescents between the ages of 11-18 with complex and acute mental health needs.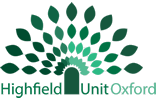 A range of staff work at The Highfield Unit ranging from psychiatrists, nurses, occupational therapists, psychologists, health care assistants, family therapist and primary mental health workers as well as many others. For more information about the roles of all the people that work at The Highfield click this link.
The 18- bed unit also includes two-bed high dependency area for patients who may require more intensive support for short periods. This allows patients to receive one-on-one care in a low stimulus environment away from the main part of the unit.
One young patient said: "I thought it was very good because given that this is a ward, there are lots of activities to distract and stay busy. The staff are very kind as well."
A parent of a child who was at the Highfield said: "My child has thrived since coming to The Highfield. The quality of care and commitment to the young people and their families is impeccable. The school has been amazing at supporting our daughter and the staff here are amazing. Special thanks to the matron for outstanding compassion and care."
Dr James, Consultant, said: "At the Highfield Unit there is a strong emphasis on psychological treatments. We are always looking at embedding new treatments an example of this recently is CBT-E. This is 'enhanced cognitive behaviour therapy' and is one of the most effective treatments for eating disorders. We have a very caring, skilled and knowledgeable team.
"It is great to read the feedback we receive from both patients and parents. We are always looking to enhance the experience we provide for our patients, so this feedback is really key in making a difference to the service we offer."
Another patient said: "I completely feel happy, educated and safe here." And a further parent said: "My daughter is recovering well and updating me with everything, and I am very impressed with the level of care."
A final parent said: "My child has received excellent long-term care over several admissions."
Some of our young patients have filmed a guided tour of the unit to enable patients and their families to get acquainted with the facilities.
To find out more about the unit click here.
We are sorry you did not find this page helpful
Tell us how we can improve this page
Published: 10 December 2021