If someone tells us they're feeling suicidal, it can be hard to know what to say.
Here's Oxfordshire Mental Health Partnership's advice about how you can support someone who feels they may want to end their life.
Just like physical health, everyone has mental health and it is important to take care of it. Mental health problems affect about one in four people a year and can range from every day conditions like depression and anxiety to rarer problems like bi-polar disorder or schizophrenia.
Oxfordshire Mental Health Partnership supports recovery, hope and ambition. Because effective recovery is holistic works it works on all kinds of issues facing people with mental ill-health, as well as delivering life-changing projects and services so people can thrive in their everyday lives, go to work, enjoying time with family and friends, socialise and travel as usual.
More than 6,000 Oxfordshire people are helped a year by the partnership which was earlier this year won the national NHS Parliamentary Award for Mental Health after being nominated by all six Oxfordshire MPs. It is made up of five local charity organisations Oxfordshire Mind, Restore, Response, Connections Floating Support and Elmore Community Services and Oxfords Health NHS Foundation Trust.
To mark World Mental Health Day Oxfordshire Mental Health Partnership is hosting an event at County Hall in Oxford between 3pm and 5pm.
We'll be showcasing the innovative work of OMHP, including a mock-up of Oxford Safe Haven, at the event.
Rob Bale, clinical director for Oxfordshire mental health services, at Oxford Health NHS Foundation Trust, said: "I am seeing really important developments improving the offer we have for people experiencing mental health difficulties in Oxfordshire. We've broken down lots of the traditional barriers which has been really positive. What we need to do now is think about how the partnership can continue to break down these barriers and improve the experience for people in our communities."
Lesley Dewhurst, chair of Oxfordshire Mental Health Partnership and chief executive of Restore, said: "Without good mental health, we as human beings cannot realise our full potential.  At Oxfordshire Mental Health Partnership we are committed to working to help everyone in our communities have good mental health.  Our partnership brings together five third sector partners with Oxford Health NHS Foundation Trust to deliver a wide range of services in specific areas of care, support and recovery.
"With this in mind, we are thrilled to be part of World Mental Health Day, which gives us all an opportunity to reflect on our work, share good practice and open conversations about mental health.
This year's theme is suicide prevention.  It is so important that we nurture and support people, in all areas of our communities – be that in the workplace, in education, in the care system, in prisons and in our own homes. Sometimes just attending to small details for people can help them turn a corner in their lives and prevent mental health breakdown. It can be just as valuable as attending to the bigger picture of caring for people when they are acutely unwell."
Val Messenger, Deputy Director Public Health, said: "We are really happy to be part of Oxfordshire Mental Health Partnership's event on World Mental Health Day (10 October) at County Hall. The county council is working in partnership with organisations across Oxfordshire to achieve a prevention-focused approach to improving the public's mental health. There are a number of mental health initiatives we have been working on together which we look forward to sharing at the World Mental Health Day event."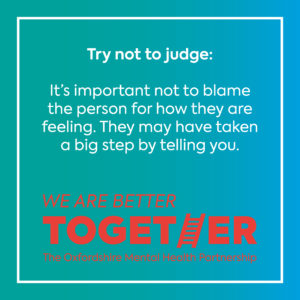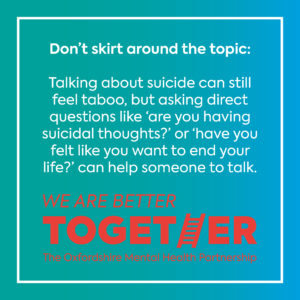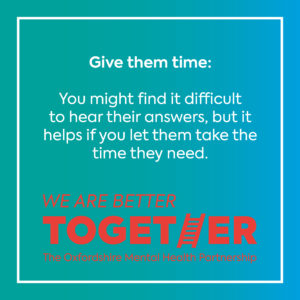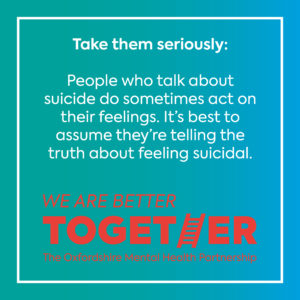 We are sorry you did not find this page helpful
Tell us how we can improve this page
Published: 10 October 2019