International nurses celebrated at Oxford Health
Nurses from around the globe get together to mark Oxford Health's International Recruitment Celebration Day.
Nurses from around the globe got together last week for Oxford Health's International Recruitment Celebration Day. Held at the Sandford Village Hall, the day was an opportunity to meet others on the same journey, review the year so far and hear about support available as well as further career opportunities.
Chief Nurse Marie Crofts opened the day with a warm welcome.
"I am immensely proud of all of you joining Oxford Health. We know that a diverse workforce benefits us all, patients as well as staff. Nursing is the backbone of our health service and nurses are our biggest workforce, with some 2,000 of you. You are a huge workforce to be reckoned with!"
Marie noted that thanks to the international recruitment programme, the Trust now has no registered nurse vacancies in the community hospitals.
"This is the first time in many years we can say this," she said and raised a round of applause from the room.

"We also know that we need to take a good care of you. So speak up – we want to support you. And we want you to thrive, take the opportunities for career development and achieve what you want to achieve."
Success and next steps
Matt Edwards, Director of Clinical Workforce Transformation, reviewed the achievements of the first year of international recruitment and plans for the next year.
Since March 2021, 73 international nurses have joined the Trust, relocating from India, Nigeria, Ghana, Cameroon, Nepal, Kenya and Zimbabwe.
Of the 73 nurses, 39 have passed their competence tests, known as OSCE (Objective Structured Clinical Examination), registered with the NMC, and are now fulfilling band 5 registered nurse roles. The mental health nurses have joined the Trust's forensic and older adult inpatient wards, while adult nurses have joined teams within community hospitals and the district nursing service.
"Next we are planning to recruit 70 nurses by the end of the year with more focus on our mental health services: 45 mental health nurses and 25 adult nurses," Matt said.
You said, we did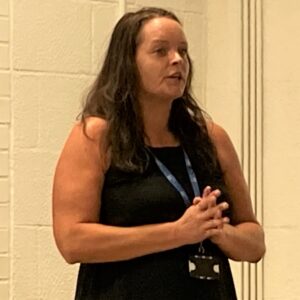 International Recruitment Project Manager Emma Lofthouse looked at how the Trust has responded to the new starters feedback on what would help in settling in.
The Trust has installed wi-fi into Springfields staff accommodation and provides UK SIM cards on arrival, which greatly helps in keeping in touch with family and friends back home.
Emma Lofthouse has been personally taking new starters to their workplaces in community hospitals rather than simply giving directions, which raised another big applause from the audience.
Chief Nurse Marie Crofts commented:
"If you put one of us on a bus in your home countries, we wouldn't manage too well!"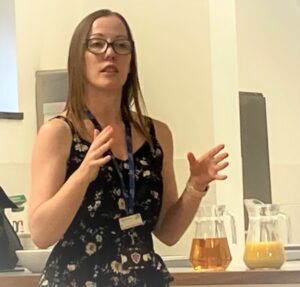 And new starters are also taken for a tour around Oxford city.
The day carried on with group work sessions where the teams discussed and fed back what had gone well and what could be improved. Nursing Workforce Transformation Manager Di Woodward said:
"We want to hear from you, you are the experts: what else can we do? We may not be able to do all of it immediately, but we will take your ideas and explore."
Derrick's story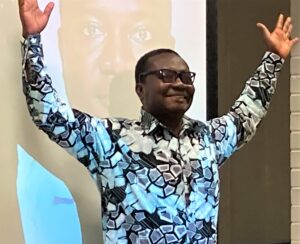 In the day packed with activity there was place for the all-important personal stories, too. Mental health nurse Derrick Adjetey Kwei gave a captivating talk on his journey from Ghana to the forensic mental health Kennett ward in Littlemore in July 2021.
"It's been amazing and busy, busy, busy," he said and raised a laughter with his (affectionate!) characterisation of his colleagues: one a 'teacher'; another 'always on your neck'.
The greatest cheer came when Derrick spoke about his joy of his family finally relocating in May from Ghana.
"My children were crying and thought dad had gone away, and sometimes dad was crying too. I was looking for accommodation and everywhere said no, no, no. But the IR team were wonderful, and when we got a house – you can't imagine: there were storybooks, toys – Emma [Lofthouse] had arranged everything. I was not left alone. So I would encourage all new ones here: seek help, just call Emma!"
Big cheer for Wendy
Throughout the day one name was mentioned – and praised – by all in the event: Wendy! And when this Wendy arrived in the village hall, there was a spontaneous cheer.
She is Wendy Katunga, International Nurse Training Development Lead, who started in the role in July 2021.
"Everyone in this room must have worked with me," she laughed. Wendy herself arrived in England five years ago from Zimbabwe and has been on the same journey as the people she now teaches and provides practical support to. Her empathy and commitment have clearly been recognised.

"I am so proud of this work and our learning and development team are amazing," she said.
We are sorry you did not find this page helpful
Tell us how we can improve this page