History was made at Oxford Health today as the Trust's frontline NHS workers received their Covid-19 jabs on day one of the Kassam Stadium becoming operational as a large scale vaccination centre.
At just after 9am, trainee clinical psychologist Madeleine Irish, took her seat in Pod 1, rolled up her sleeve and received the first shot of the vaccine to be administered at the centre.
"It's the start of things getting back to normal," beamed the 26-year-old, who treats older adults under the care of Oxford Health's community mental health team and users of Oxfordshire's talking therapies service TalkingSpace Plus.
"I feel so privileged to be the first to get the vaccine here today. It means I will soon be able to have more face-to-face time with patients and that will make a big difference to me and them."
Giving the vaccine was registered mental health nurse Mandy Taylor, who has been specially recruited to support the vaccination roll out.
"I feel really honoured to be the first person to give the Oxford jab at this Oxford centre to an Oxford Health worker. I've been a nurse for 39 years and it's a moment I will never forget," she explained before preparing for her next patient.​​​​​​​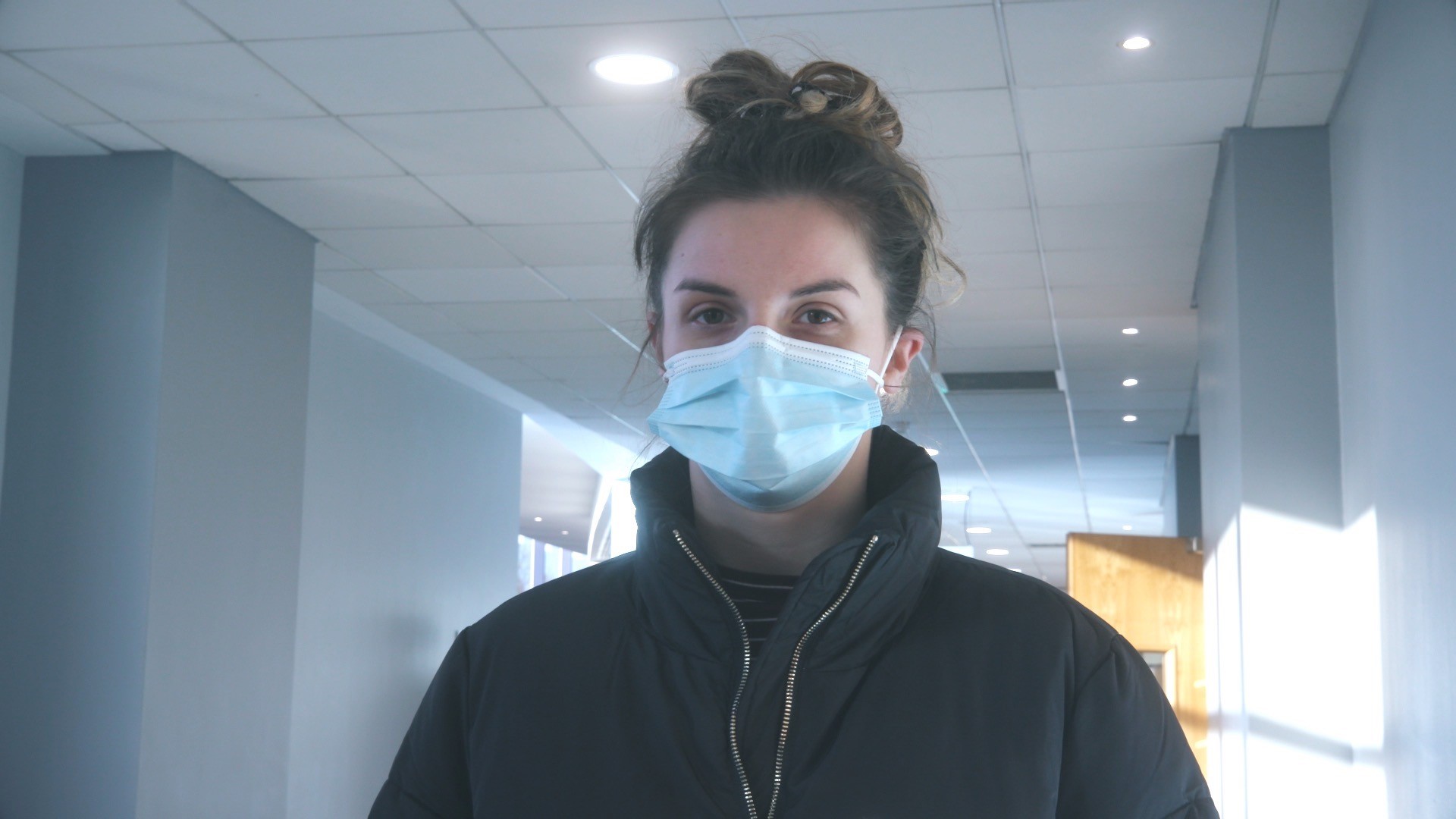 Emma -Louise Johnstone
Rehabilitation assistant Emma-Louise Johnstone, who works out of Bicester Community Hospital, was the second recipient of the jab. For the 27-year-old mum of twins getting the vaccine hasn't come a moment too soon.
"It's marvellous because my work brings me in close contact with older patients who rely on me to support them and assess their needs through their recovery journey. I know so many of them in the community have had their vaccinations already. Now I've had mine it will be a great reassurance for them and a comfort for me too."
After her jab, the Oxford Health team ensured Emma received a post-inoculation leaflet and sticker, and booked her in for her follow-up jab on April 19 before she headed off to work.
The Kassam Stadium is one of 32 new NHS Vaccine Centres that began delivering life-saving Covid jabs from today as the health service continues to accelerate the biggest immunisation programme in its history.
It is the first large scale centre that Oxford Health has set up as lead provider for vaccination centres for the NHS in Oxfordshire, Buckinghamshire and Berkshire West.
Priority front line patient-facing staff who work on community and mental health wards as well as in the community via services like district nursing,  are at the head of the queues this week. Hundreds of staff are booked in.
​​​​​​​The public aged 75 and over have been offered an appointment at the centre from Monday, February 1 via a national booking system. They are being contacted by letter and by phone to make an appointment for their first dose of the Oxford AstraZeneca vaccine.
If they cannot or do not want to travel to the Kassam, which will open seven days a week, from 8am to 8pm people from next Monday, February 1,  for booked appointments, they can wait to be invited to be jabbed by a local GP service or hospital hub. People are reminded not to turn up to the Kassam Stadium without an appointment.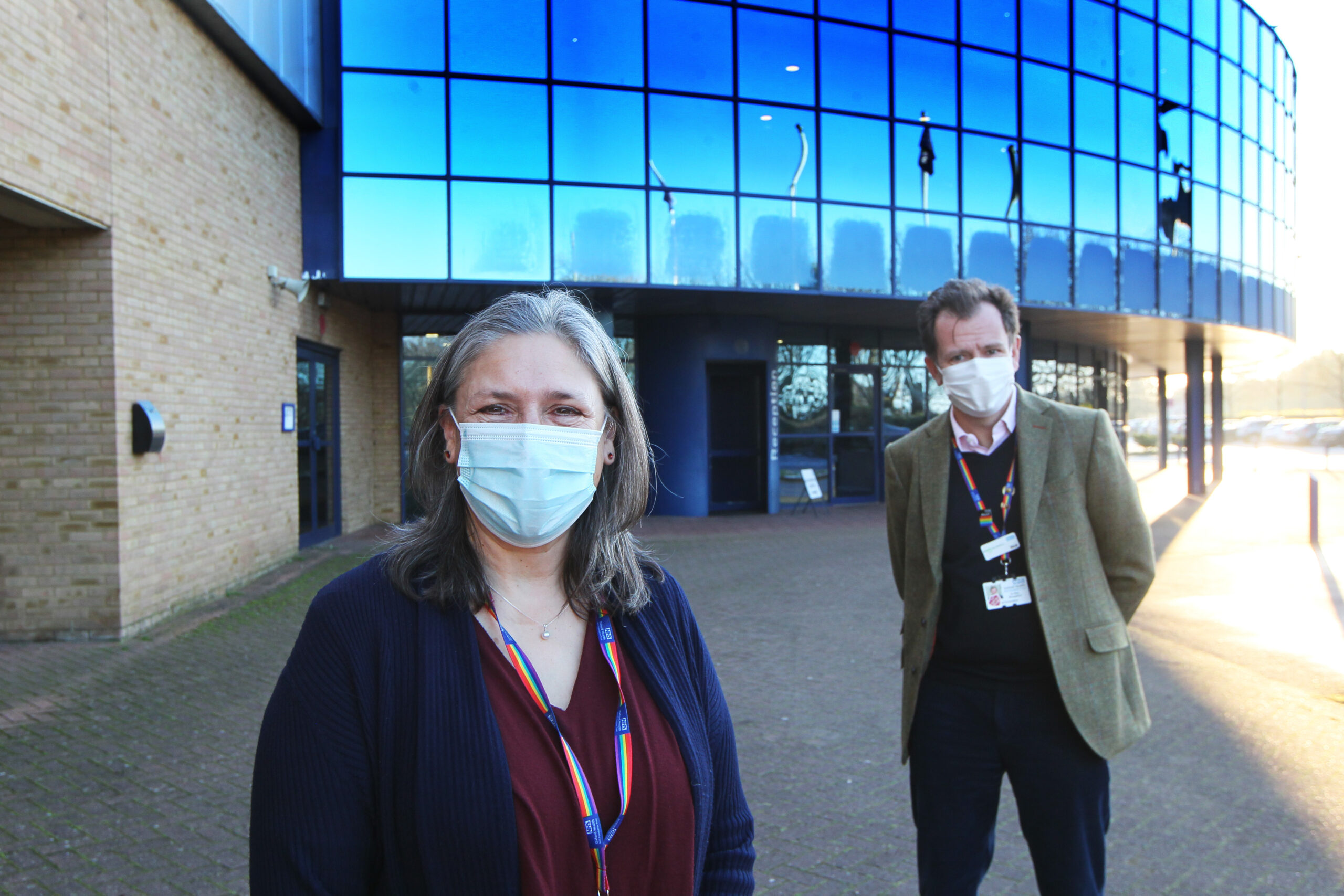 Covid Operations Director Tehmeena Ajmal and CEO Dr Nick Broughton outside of the Kassam Stadium
Commenting on the launch of the vaccination centre, Dr Nick Broughton, Chief Executive of Oxford Health NHS Foundation Trust, pictured, said: "It's been incredible to be here to witness this moment; to see how everyone is working so hard to make the process efficient and seamless, and to know that our staff are now getting priority access to an Oxford vaccine.​​​​​​​
"There is a real buzz about the place and lots of smiles hidden behind masks.
"I am delighted that Oxford Health is now playing its critical part in the roll-out the vaccination programme. This step means we can deliver inoculations at pace so that thousands more people can be protected from Covid-19."​​​​​​​
For Covid Operations Director Tehmeena Ajmal today was the culmination of several weeks of painstaking preparations by a dedicated team at Oxford Health to set up patient flows, systems and the overall roll-out of the programme.
"I am so delighted we have reached today and can see life-saving jabs going into the arms of our most at-risk patient-facing staff who have worked tirelessly throughout the pandemic and who look Coronavirus in the eye every moment they are at work, caring for our patients.
"It's a tremendous achievement from our project team and we cannot wait to welcome our first members of the public next week. Very quickly we will have the potential to vaccinate up to 8,000 patients a week, helping the nation turn the tide against Covid which has impacted on, and devastated, so very many lives."
With the latest openings, the Kassam Stadium now forms part on a network of almost 50 large-scale centres across the country. The first seven, which can jab thousands of people a week, opened two weeks ago with another 10 opening last week.
We are sorry you did not find this page helpful
Tell us how we can improve this page
Published: 25 January 2021