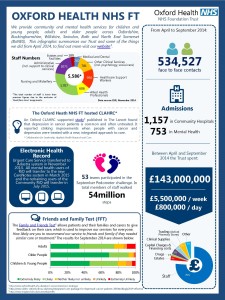 Oxford Health NHS Foundation Trust (OHFT) has this week unveiled its latest infographic displaying some of the key pieces of information about the trust and its achievements during the second half of 2014.
Dan Leveson, Head of Strategy and Programmes for Oxford Health NHS Foundation Trust, whose team produced the infographic said: "We had some really great feedback about the last infographic we produced and it really allowed us to engage with our patients and staff in a way we hadn't done previously.
"It's a real snapshot into some of the amazing work that's being done by the staff of Oxford Health and the positive feedback we have had via the Friends and Family Test is a testament to the excellent care we provide.
"One of the first things that struck me when you looking at these figures is just how much we are doing as a trust, with over half-a-million face-to-face contacts and more than 1,800 admissions in six months.
"And the second thing was how much money we spend on care – £800,000 a day.
"I think the breakdown of our activity and the care we provide – which is central to the latest infographic – will be eye-opening for a lot of people, as it reflects the scope and scale of the work being done by the trust to provide the best possible care for our patients and service users.
Mr Leveson added: "The NHS is one of the best, most efficient care systems in the world and these are really difficult times for everyone involved.
"The needs for health and social care services are likely to continue to increase in the coming years at a far greater rate than the money we have available.
"We want patients, their families and carers to achieve the outcomes that they want and we want them to be fully involved in their care.
"I am confident in the abilities and commitment of all our staff to rise to the challenges we face now. I believe that we are finding smarter ways of working, we are innovating and always trying to improve the way we do things. Doing this and working in the safest, most effective and efficient ways we will provide the best value care."