These boots were made for walking and Lynda Dix has trekked through the countryside for 30 hours non-stop in the 100k Chiltern Challenge, raising an impressive £1,200.
Lynda, who is our head of forensic nursing services, took on the gruelling walk to raise funds for Oxford Health Charity to buy outdoor gym equipment that both staff and forensic patients at Littlemore Mental Health Centre in Oxford can benefit from.
Armed with a head torch, jelly babies, plasters and painkillers, the 39-year-old mum of one set off from Henley with two friends at 8.15am  on July 27 with the aim of getting back to base camp the following morning.
For Lynda, the mission was one that tested out her pain threshold. She and her walking comrades completed the 50k Thames Path event last year and she suffered badly with blistered feet.
Despite the discomfort she enjoyed the challenge. So, when the trio decided on upping the ante this time by doubling their walking distance and throwing in some hills for good measure, she knew her feet would be tested to the extreme.
Long distance training walks for the Chiltern Challenge has also seen her plagued by blisters.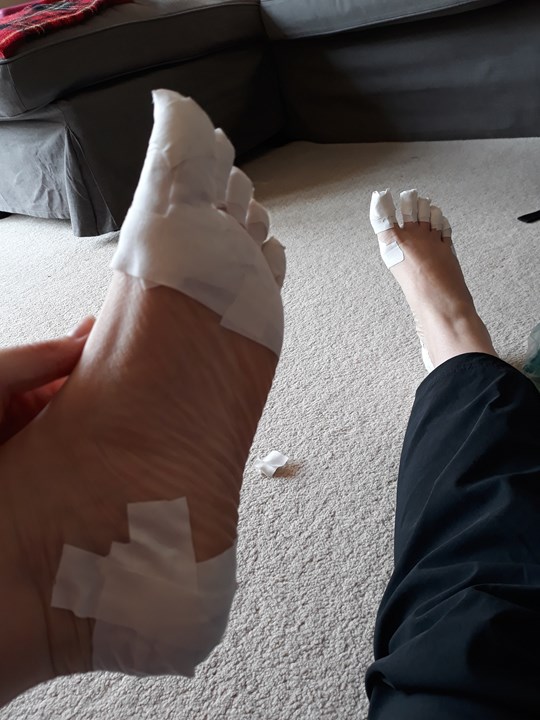 "I'm resigned to the fact that I will get them no matter what I do, " she said. "So, my feet will be were taped up and I had to pop blisters as we went around and take painkillers when needed."
Keeping Lynda going on the challenge – which took in The Ridgeway, Icknield Way and the Chiltern Way passing through nature reserves, forests, footpaths and hills – was the thought that her efforts would make a big difference to patients' and staff lives.
Lynda said: "I am really grateful for any sponsorship. Hopefully whatever I raise can be added to funds being raised by the trust's Oxford Half Marathon team. By pooling our resources we can get some great equipment to improve the site.
"An outside gym can be used by both adult and forensic patients as well as our staff. Patients could use it, hopefully giving some purpose to leave within the hospital grounds and helping improve their physical health."
Oxford Health's forensic services help people with a mental health condition and a history of criminal offending, or those who are at risk of offending.
Lynda was aiming to raise at least £10 for every km walked and all donations are going to Oxford Health Charity (OHC),  which exists to support those receiving care and working with Oxford Health NHS Foundation Trust.
Through funding OHC enhances patient, carer and staff experience through supporting projects, activities and training over and above that provided through the NHS.
Lynda said: "I wanted to pick a charity that's meaningful to us. Our staff are brilliant at doing things for other organisations but I thought I should do something for Oxford Health Charity which is our own one that's fantastic for so many reasons and should get more focus.
"Whatever I finally raise I know it will improve our patients' environment. It's sometime hard to balance the need of having a secure and safe environment, but one that's also nice as well. Let's not forget our units are not a prison."
Lynda has been in mental health nursing her whole career and came to Oxford Health as a newly qualified in 2002.
She was instrumental in setting up Thames House, a 26-bedded low secure female unit comprising of Kingfishers and Kestrel wards, which opened in June 2007.
Lynda, who was matron there for some time, explained: "Oxford Health didn't have a women's forensic service and, when the trust looked at setting one up, I worked with others to develop what it might look like.
"I became the ward manager before it opened and worked with architects designing the unit, assessing the patients who would be coming into it and recruiting the staff team. It was very exciting, and when a restructure happened, I became matron there – a post I really loved."
Lynda has now been the head of nursing for forensic services for almost three years.
If you'd like to support her mission please visit Oxford Health Charity or alternatively her justgiving page at https://bit.ly/2YePIlU
We are sorry you did not find this page helpful
Tell us how we can improve this page