Mental health dietitians shortlisted for NHS England Award
The pair are in the running for a Chief Allied Health Professional Officer's Allied Health Professional Innovation & Care Systems Award
Mental health dietitians caring for people with an eating disorder have been shortlisted for a national NHS England Allied Professionals award for their innovative work at mealtimes.
Lucy Gardner and Sylvia Pyatt, dietitians at Cotswold House in Oxford, are in the running for the Chief Allied Health Professional Officer's Allied Health Professional Innovation & Care Systems Award from NHS England.
Mealtimes take place six times a day on an eating disorder inpatient unit and are a mainstay of treatment. However, they are often distressing and anxiety-provoking times for patients and in turn staff. A product of patients' distress is an increase in eating disorder-related behaviours specific to mealtimes.
The team recognised that people's experience of mealtimes in the dining room played a pivotal role in new treatment model CBT-E being implemented on the unit. They also found there was little clinical literature on the impact of the dining room on patient care upon which to draw best practice. So they set about developing their own.
They studied the dining room experience and measured the number of times people displaying eating disorder-related behaviours. They also gathered the experiences of patient and staff.
With the involvement of patients and staff, interventions were introduced to support people to overcome these behaviours, known as maintaining factors, and ultimately reduce the number of eating disorder-related behaviours.
The team trialled three key interventions at mealtimes – a host role in the dining room where a dedicated staff member prepared and supported, allowing other staff to focus on supporting their allocated patients, a guide to the dining room and competencies for all staff and a dining goals group for staff to discuss and collaborate on the approach.
The result was an average 33 per cent reduction in eating-disorder behaviours for each patient at mealtimes in the inpatient dining room.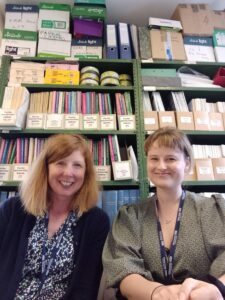 Lucy Gardner (pictured left with Sylvia Pyatt) said: "Sylvia and I are very excited about being shortlisted for the award. It helps to highlight the groundbreaking work we have been doing as part of a quality improvement project, working within the Oxford Health adult specialist eating disorder units. It also reflects the development of mental health dietetics within the trust and the invaluable part dietic care contributes to excellent and innovative patient care."
The team have published papers in the British Medical Journal Open and Dietetics Today and presented learning at national and international conferences. The project is now on its fourth test of change – using simulation training to train staff to support patients at mealtimes. In time it is hoped the simulation training will be rolled out across the HOPE Provider Collaborative and other eating disorder services.
The work is part of the ground-breaking multi-disciplinary ICBT-E treatment model which won the NHS Parliamentary Award for Mental Health in 2022.
We are sorry you did not find this page helpful
Tell us how we can improve this page
Published: 17 August 2023