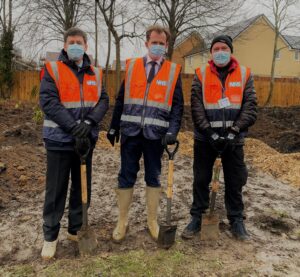 On December 6, the latest MINI Tiny Forest was planted at Littlemore Mental Health Centre near MINI plant Oxford, in partnership with Green Templeton College. The forest is part of MINI Electric partnership with Earthwatch Europe.
The Tiny Forest is home to 18 different tree species, it will boost biodiversity on the site and create a new green space for staff, patients, and visitors to use – to reconnect with nature, providing a peaceful and quite sanctuary.
The planting day was a huge success with Oxford Health staff and patients, MINI UK staff and apprentices and Earthwatch planting 600 densely packed native trees saplings at the Mental Health Centre (following current COVID-19 guidelines) – with the hope to attract hundreds of new animal and plant species over the coming years.
Nick Broughton, Chief Executive at Oxford Health NHS Foundation Trust added, "Over 800 large trees are planted across the trust's sites, absorbing over 38 tons of carbon annually – helping to offset Oxford Health's overall carbon footprint and contribute to the NHS' aim to be the world's first net zero health service."
"The Trust are delighted to be working with MINI and Tiny Forests to grow our green spaces on sites – making a difference to both the environment and our communities. Providing a calming environment for our patients, visitors and staff is therapeutic and improves mental wellbeing."
David George, Director of MINI UK says, "Creative use of space is at the heart of MINI, so the partnership between MINI Electric and Earthwatch Europe to plant Tiny Forests is a perfect fit. We're really excited about how Tiny Forests can bring communities together and help educate on the important role biodiversity plays in sustainability."
Louise Hartley, Tiny Forest Programme Manager at Earthwatch Europe, said "Tiny Forests provide rich opportunities for connecting young and old alike with the environment and sustainability. It's vital that we give people the knowledge and skills to protect our natural world and inspire them to take positive action. We are delighted to be working with MINI Electric to bring these inspiring spaces to their local communities of Oxford and Swindon, and across the UK."
Over the next two years, with the help of young people from local schools and the wider community, Earthwatch will collect data from the MINI Tiny Forest on: carbon absorption, flood mitigation, thermal comfort and biodiversity, as well as assess the social and wellbeing benefits of having this new green space in an urban area.
The MINI Tiny Forest is in dedication to Jeff Burley, a tree scientist from the Plant Sciences Department of the University of Oxford, who initiated the sponsorship on behalf of Green Templeton College.
For more information about Tiny Forests visit https://earthwatch.org.uk/get-involved/tiny-forests
Photo credit: Sam Chick, Junction Eleven.
We are sorry you did not find this page helpful
Tell us how we can improve this page
Published: 13 December 2021