New nurse Charlotte already making a difference
Find out more about what life is like for one of our newly qualified community staff nurses.
Nursing is a rewarding yet tough job at the best of times, and with COVID-19 adding a new dimension, you would think that entering the profession right now would be daunting.
But Charlotte Trinder-Jones, a newly qualified community staff nurse within the Oxford Health district nursing team, has risen to the challenge admirably in this special year, 2020 Year of the Nurse.
Oxford Health has a successful range of training and apprenticeship opportunities and works closely with Oxford Brookes University in getting new generations of nursing and mental health nurses joining our NHS family and delivering care to the communities we serve.
Charlotte joined us on a student placement and now she's working hard out in the community.
Chief Nurse Marie Crofts said: "From student placement, to qualifying during Covid and joining the district nursing team has been quite a journey for Charlotte. I'd like to personally thank her for her hard work, care, compassion and tenacity and am delighted we have such an inspirational person joining us and championing nursing.
"I hope her story will encourage other young women and men like her to take up the profession and make a difference."
It was personal experience that influenced her decision to become a nurse. She explains: "I looked after my grandma when she was dying and met the district nurses who came every day and they were so lovely. I knew then that nursing was something that I wanted to do.
"I worked so hard to get the grades I needed and, although I considered midwifery, I have found that adult nursing gives me such a wide range of knowledge and really is the thing for me.
"I see a wide range of people every day and the patients are so nice and so accepting of the care. It's rewarding to be able to help people and know that what you are doing is appreciated."
Charlotte, 21, lives in Blackbird Leys and her work area covers the city of Oxford. Her duties centre around providing essential medical care to people in their homes and ensuring that it is all done under strict COVID-19 secure conditions to help #StopTheSpread
As an adult nurse she works with people aged 18 and upwards but the majority are aged between 60 and 90.
Nerves, faith and confidence
Having qualified and secured her first job earlier this year Charlotte found her career starting under unexpected circumstances. She said: "I initially joined the East Oxford District Nursing team on a student placement back in March 2020 just as the COVID-19 pandemic began.
"At first I was extremely nervous about joining the team at such a challenging time, but it was soon apparent how supportive the team were and I fitted in so well.
"As soon as I started I loved every minute of my time with the team, who have helped me grow in confidence and have full faith in me which was reassuring at a difficult time.
"Yes, it has been challenging and completely different to all previous placements as a student nurse, but it was a no-brainer for me to opt in and become a paid band 4 student nurse. I have learnt to adapt quickly to different situations and take them in my stride.
"I really enjoyed my time as a student nurse and am excited to start my journey as a newly qualified nurse with the East Oxford District Nursing team and Oxford Health NHS Foundation Trust."
A day in the life
So, what does a normal day involve? Charlotte explains: "We start at 8am when we have a morning briefing and that's when I get my list of that day's patients which can range from 5 to 12 for the day.
"After the briefing I pick up any stock that I need and then it's off to see insulin patients who are the main focus of the morning. After that it's usually off to see people for wound care, taking bloods, catheter changes – a wide range of things really.
"We then have an update at 1.30pm before going out again to finish our rounds. The day ends at 4pm."
More people like Charlotte are needed each year to train and become nurses, and she has some advice for anyone thinking that nursing could be for them: "Nursing is a career not just an ordinary job. It will be tough to train and qualify and you must  have confidence in yourself.
"When you get going you will find it really is a rewarding career if you work hard and manage your time you will get so much out of it."
Rebecca Carton, Acting Team Leader – East Oxford District Nurses, said: "She initially joined East Oxford team here in the city as a management placement student. She quickly stepped up to the mark becoming a paid student during the covid-19 first wave and then stayed on with us and is already absolutely flying!"
To find out more about apprenticeships and training opportunities at Oxford Health email apprenticeships@oxfordhealth.nhs.uk For vacancies at Oxford Health, please visit our careers website https://careers.oxfordhealth.nhs.uk/vacancies/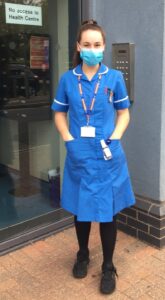 We are sorry you did not find this page helpful
Tell us how we can improve this page
Published: 2 October 2020