Pregnant women, mothers and their families are to benefit from a new specialist service offering tailored mental health treatment.
More than 1 in 10 women develop a mental illness during pregnancy or within the first year after having a baby and suicide is a leading cause of death for women during this period.
Until now most women have been supported by their GP, talking therapy services (Healthy Minds in Buckinghamshire and TalkingSpace Plus in Oxfordshire) and adult mental health teams run by Oxford Health NHS Foundation Trust which provides mental health services in the two counties.
Last year Buckinghamshire and Oxfordshire were successful in securing funding from NHS England to develop and expand the service.
It is now hoped about 30,000 extra people a year across the UK, including Buckinghamshire and Oxfordshire, will be able to benefit from additional specialist mental health services which brings together women who have lived through their own experience of mental health conditions and healthcare professionals to support local women, babies and families.
It comes as this week marks Maternal Mental Health Matters Awareness Week which runs from 29 April to 5 May to help raise awareness and reduce stigma which can be a barrier to women asking for help.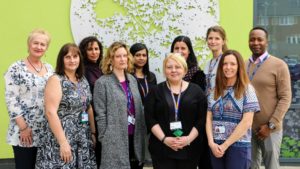 Women who have lived through their own experience of mental health conditions, psychiatrists, psychologists and mental health nurses with specialist knowledge and expertise in treating people's mental health during pregnancy and following childbirth will work with midwives, health visitors and nursery nurses to support local women, babies and families to get help when they need it most.
Locally, women and families' needs will be individually assessed, and they will be supported through a treatment pathway developed by Oxford Health NHS Foundation Trust with Buckinghamshire Healthcare NHS Trust and Buckinghamshire Clinical Commissioning Group in Buckinghamshire and Oxford University Hospitals NHS Foundation Trust and Oxfordshire Clinical Commissioning Group in Oxfordshire.
Claire Daniels (pictured below and above with Buckinghamshire Perinatal Mental Health Team) is a perinatal nurse specialising in the mental health of pregnant women and mothers with babies less than a year old with Buckinghamshire Mental Health Services, provided by Oxford Health NHS Foundation Trust.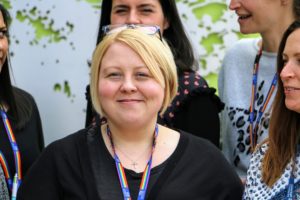 She said: "We are coming into women's lives at a very critical vulnerable time – it is the earliest care we can provide. We're working from conception to help women and their babies and we're able to give them more intensive support.
"It's good to talk. Sometimes women feel they cannot reveal how they feel. But this is not a taboo subject, they are not letting their babies down, and they are not bad mums. It's a really common illness.
"A lot of women who are pregnant or have had a baby in the past year develop a mental health condition. If untreated, these illnesses can have a devastating impact on the women affected and their families. It's thought about 7 out of 10 women hide or underplay the severity of their perinatal mental illness and suicide is the leading cause of death for women during pregnancy and within one year of giving birth.
"We will look at the family as a whole to see how we can support them, because mental health conditions affect fathers and partners at this time too. Family mental health problems can have a huge impact on a child's ability to form a secure attachment with their parent and so it is really important we help families when babies are young."
Natalie Mudge (pictured top right with the Oxfordshire perinatal team and her daughter Evie) is now working as a peer support worker supporting women with Oxfordshire's perinatal service at Oxford Health NHS Foundation Trust, after experiencing mental health problems after the birth of her daughter Evie in 2016. She said: "After I had my daughter I became very unwell with post-natal psychosis. It took me six weeks to understand I was unwell, such was my state of mind. I didn't think it would happen to me. Things in my head didn't make sense. It's been really great to meet other women going through similar things and be able to support them."
Ruth House, Specialist Health Visitor for Maternal and Infant Mental Health, at the Buckinghamshire Healthcare NHS Trust said: "Becoming a mum can be a wonderful time, but it also brings with it many challenges and difficulties. Motherhood can be physically and emotionally draining through pregnancy and during the days, weeks and months after birth. We hope that having the pathway established and expanding the specialist services means that all women who require it can access appropriate, high-quality specialist perinatal mental health care, closer to home when they need it. This will make a real difference to the lives of women – which can, in turn, make a difference to the lives of their young children and families too."
Anyone concerned about their mental health during the perinatal period should speak to their GP, health visitor or local talking therapy service – Healthy Minds in Buckinghamshire and TalkingSpace Plus in Oxfordshire.
What is perinatal mental health?
Perinatal mental health refers to a woman's mental health during pregnancy and the first year after birth. This includes mental illness existing before pregnancy, as well as illnesses that develop for the first time, or are greatly exacerbated in the perinatal period.
Examples of perinatal mental illness include antenatal depression, postnatal depression, anxiety, perinatal obsessive compulsive disorder, postpartum psychosis and post-traumatic stress disorder (PTSD). These illnesses can be mild, moderate or severe, requiring different kinds of care or treatment.