Fay Foteini, a nursing associate on the ward, nominated her team saying: "Opal Ward is a great and supportive team for patients and colleagues alike. It gives hope and smiles back to patients, helping them recover their independence, their hope for life and happiness. Staff are caring, compassionate and empathetic, keeping everyone safe.
"It's an amazing team with a wide skills mix and with enormous passion for excellent service and care. My colleagues are highly skilled and passionate about providing excellent care and empowering people to live independently in the community. I am proud to be part of this great team."
Presenting the team with their trophy, certificate and £100 voucher at the 20 bed mixed sex rehabilitation ward, Dr Broughton said: "Congratulations Opal ward! Well done! I know how challenging how environments like this are, never mind all the challenges you've had in recent times with the move to NHS Professionals, the Covid pandemic and the IT systems outage, amongst others."
Opal ward is a recovery orientated service providing a "happy, holistic and enabling environment" for adults with severe and enduring mental illness. It helps patients who struggle to cope with everyday life and manage their problems, get their confidence back and live as independently as possible back in the community. The team works closely with the Oxfordshire and Buckinghamshire community mental health teams and early intervention services.
Modern Matron Fred Yeboah said: "I'm so proud of my team. We've got a lot of experienced people in the team who have been here for many years. They're there for me and I'm there for them. They go above and beyond."
Deputy Ward Manager Nick Sommariva said: "Everybody pulls together and when times are difficult everyone pulls in the same direction. We've got a great therapeutic relationship with our patients. We get to know them over quite long period of time, so we develop close ties. We work really hard to make sure when people are discharged they can cope in the community and aren't readmitted – that's our ethos really."
Opal ward won the EPA award in February, but the presentation was delayed.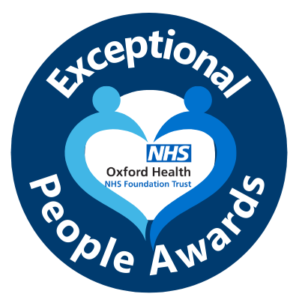 You can nominate any team for an award
Your nomination will need to showcase how the team's work or achievement supports the Trust values andstrategic objectives, with a focus on patient and care outcomes.
To nominate a team, please complete this online nomination form. The rules for making a nomination are also downloadable. For enquiries, please email ExceptionalPeopleAward@oxfordhealth.nhs.uk.
We are sorry you did not find this page helpful
Tell us how we can improve this page