Our Chief Nurse Marie Crofts pays tribute to our amazing nursing staff for International Nurses' Day
Today we are celebrating our fantastic nurses as it is International Nurses' Day, marked around the world on 12 May, the anniversary of Florence Nightingale's birth.
Chief Nurse Marie Crofts (pictured) praised the professionalism of our nurses, saying: "Our nurses at Oxford Health are truly extraordinary! Incredibly hardworking, caring and professional, they make an enormous difference to the lives of many, many thousands of patients."
CEO Dr Nick Broughton added: "Our nurses at Oxford Health do incredible work, day-in day-out, for our patients, and have really risen to the challenges of the COVID-19 pandemic. I can't thank them enough for everything they do."
Marie also took the opportunity to thank the 66 nurses who have joined the Trust's 2,000 strong workforce from overseas following our international recruitment campaign.
She said: "I'd like to pay tribute to all the nurses who have joined us from around the world as part of our international recruitment campaign. Sixty-six nurses have joined us from as far afield as Africa, India, Nepal and Malta over the last year. Thank you and welcome!"
An event was held in the Whiteleaf Centre in Aylesbury tomorrow, as part of celebrations, to show how much we value our new nurses, who marked on a giant map where they're from and sharing their stories.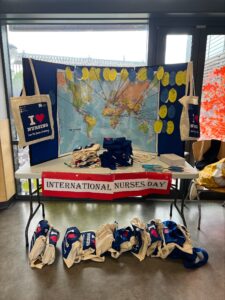 We are sorry you did not find this page helpful
Tell us how we can improve this page