Outstanding care sows seeds for DAISY award for Aimee and Mandy
The work of two Oxford Health nurses has been recognised with the presentation of DAISY awards.
The DAISY awards are an international programme set up to recognise exceptional work done by nurses everywhere. Find out more about DAISY by clicking on this link.
Aimee Skinner, is Lead Learning Disability Nurse in the Oxford city area, working in a multidisciplinary team supporting adults with a learning disability.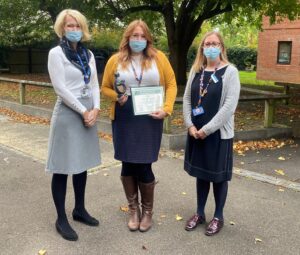 She received her award at a surprise ceremony at the Highfield Unit. She was nominated for managing several complex situations involving patients and continuing to remain outstandingly caring and committed to her role while understanding the sensitivities of each case.
Aimee said: "I was surprised, delighted and humbled. I was honoured to receive it and want to extend my thanks to whoever nominated me, and Marie and Britta for the presentation.

"And of course, I want to thank my amazing team. They are all so incredible and all deserving in their own way, it is an honour to work alongside them every day and to see in action that impact great Learning Disability Nursing can have in peoples. It's the best! Thank you!"
Another colleague who has been presented with a DAISY award is Mandy Green.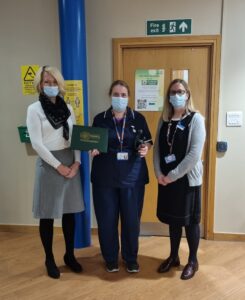 She is a community children's nurse who looks after sick, disabled and dying children at home. This includes those that are acutely unwell as well as children with long term complex health needs as well as palliative care.
The team covers the 0-18 age range across the whole county, promoting early safe discharge from hospital and prevent hospital admission where possible and ensure children with complex health needs can access schools and other activities or that they can be safely cared for in the community.
The nomination detailed her dedication to supporting patients, answering queries and going above and beyond the patient's expectations and that Mandy showed "support, care and love throughout the whole experience".
She said: "I feel honoured and so stunned and delighted that I have received this award. It is wonderful and amazing to get such recognition for just doing my job. Thank you."
If you have been impressed by the care you have received from your nurse then make a nomination on the following page.
We are sorry you did not find this page helpful
Tell us how we can improve this page
Published: 22 November 2021