Owls fly to canvas in City Community Hospital
"The results are wonderful!"
Owls have a starring role in many story books, lately most notably with Hedwig in Harry Potter's world. But on Wednesday (December 4) this week, owls took to the canvas at the City Community Hospital in Oxford where artist Grant Waters taught staff, patients and relatives to draw and paint these mysterious and magical birds.
"The results are wonderful!" said arts co-ordinator Angela Conlan.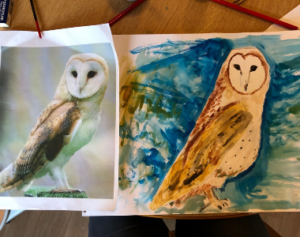 The art sessions at the hospital are a partnership project between the Creating with Care programme and Abingdon and Witney College who have supplied Creating with Care with a five-week art course with Grant Waters.
Creating with Care is a programme of arts sessions run at Oxford Health's six community hospitals: Wallingford, Witney, Didcot, Bicester, Abingdon and Oxford. Over the past year it has brought dance, mime, film, music, visual arts, crafts, cabaret, mosaic making, photography and exhibitions to patients, family and staff. Since January 2019 there has been 188 arts sessions with nearly 1,200 attendances.
Funded by Oxford Health Charity, Creating with Care helps alleviate boredom, worry and anxiety.
"Feedback from sessions overwhelmingly indicates that the activities distract from the hospital setting and help patients feel more relaxed," says Angela.
In December the sessions will run up to Christmas and include a vintage Christmas cabaret in Witney and an intergenerational Christmas party with children from Paddocks Nursery in Wallingford.
Creating with Care has secured funding for another year so the uplifting activities and working with local communities will carry on throughout 2020.
Published: 5 December 2019