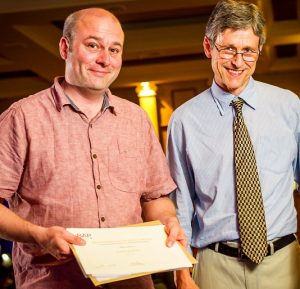 Consultant psychiatrist and Oxford University researcher Dr Michael Browning (pictured left), has been recognised for his scientific work at the recent British Association of Psychopharmacology (BAP) Awards.
At the summer BAP conference in Brighton between 17-20 July, Dr Browning won the prestigious Senior Clinical BAP Psychopharmacology Award.
Dr Michael Browning's research focuses on the role of learning in the cause and treatment of the emotional disorders (anxiety and depression). He is also leading trials to test a new method to find anti-depressant treatments that work for individual patients
He says: "The emotional disorders are among the most common of the psychiatric illnesses. While there has been significant recent advances in understanding the cognitive and neural systems involved in producing symptoms of both anxiety and depression in response to stressful circumstances or negative life events it is less clear why, when exposed to the same environment, some people will become anxious or depressed while others will not. The overall goal of my research is to better understand the mechanisms which lead to this vulnerability and to use this understanding to develop novel, evidence based treatments for these illnesses."
Find out more about Depression and Anxiety from the Oxford Health NHS Foundation Trust Research pages.
Find out more about Dr Michael Browning and the British Association of Psychopharmacology.
Read about the awards in the Oxford Mail.