Oxford Health sounds Green Alert
Trust aims to cut 1,000,000 business miles, encouraging more cycling, a care share scheme and work on a new bus network from park and rides
Oxford Health has launched its action plan to tackle climate change by becoming a more sustainable and environmentally conscious organisation.
The NHS Foundation Trust provides mental and community health services across Oxfordshire, Buckinghamshire, Wiltshire and parts of Somerset and employs 6,700 people working across 150 sites.
In a series of 'Green Alert' conferences, the trust is unveiling to hundreds of senior leaders how It is planning to tackle the impact of workers' travel on the environment, reduce its carbon emissions, and eliminate more than one million business miles in the next three years.
And it is mobilising staff to sign up to a carbon reduction pledge: 'Five ways to 10%'
Use public transport or cycle one day a week
Try not to travel – use technology instead
Think before you print, Recycle and use less paper
Turn the heating down
Turn the lights off when not needed
Oxford Health has already reduced its carbon footprint by 25 per cent since 2014 through new energy efficient buildings, stringent recycling, a zero landfill policy, improved boilers, rainwater harvesting, solar energy, LED lighting and an e-vehicle pilot.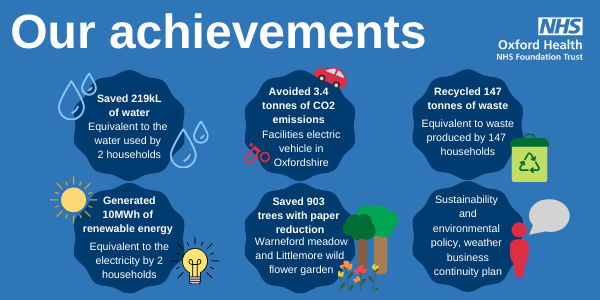 Now it is setting out ambitions plans which chime with the NHS Long Term Plan and the 'For a Greener NHS Campaign' which aims for the whole health service to be carbon neutral by 2050.
With its headquarters in congested Oxford,  the trust recognises that robust travel solutions will make the biggest impact on the environment by improving air quality and health.
Air pollution is linked to killer conditions like heart disease, stroke and lung cancer, contributing to around 36,000 deaths annually at a total social cost of £22.6 billion.
Sounding the 'green alert' at Oxford Health is John Upham, the trust's sustainability manager. He said: "Our key focus is on carbon reduction and travel.  Currently Oxford Health generates 5,500 tonnes of Co2 each year, the same as a space shuttle launch.
"We know that we can make significant changes and one of our first targets is reducing travel by one million business miles in the next three years. We are already a Global Digital Exemplar trust and we need our staff to embrace IT solutions to hold meetings, eliminating the need to travel.
"We also want our workers to use public transport and cycle more, but we recognise that following a staff survey we need to do more as an employer to help this."
John is working with Connecting Oxford and stakeholders like Oxford Brookes and other NHS organisations in formulating proposals for a key new bus service linking employment sites in the eastern arc of the city to other parts of the city, county towns and Park & Ride services. It aims to run every 12 minutes.
Reduced traffic would also mean other bus journeys in and around the city would be quicker, more reliable and enable more road space for wider cycle lanes.
"Better transport connectivity will be crucial. We need to get our workforce out of cars and onto public transport especially with Oxfordshire County Council and Oxford City Council's plans for a workplace parking levy and a zero emissions zone.
"We want to also encourage more people to get on their bikes and we are looking at ways in which we can support that. In addition, we want to support staff who have electric vehicles or want to switch to them, so we would aim to put in charging points at sites if funding is available.
"Other solutions could include a secure online care share app where staff can sign up and the technology does the hard work in identifying the closest colleagues to you who could share your journey into work. Every buddy-up takes one more car off the road, improves the air we breathe and saves people money."
We are sorry you did not find this page helpful
Tell us how we can improve this page
Published: 12 February 2020