Oxford Health welcomes global nursing recruits
10 experienced nurses from overseas join us to work in our community hospitals
Experienced nurses from around the world are answering Oxford Health's call to join the NHS and help us deliver excellent care.
The Trust has embarked on an international recruitment drive to attract 80 highly-skilled overseas nurses to work in community health and mental health wards by October 1.
Already, 10 nurses from Nigeria, South India and Nepal have joined Oxford Health and embarked on roles in community hospitals in Oxfordshire, including those in Abingdon, Oxford, Witney, Didcot and Wallingford.
A further 10 nurses are set to join the Trust in June to work in mental health wards in Oxfordshire and Buckinghamshire.
Oxford Health Chief Nurse Marie Crofts explained: "Recruitment from outside of the UK has made a valuable contribution in the NHS over the years and continues to feature as an important part of the workforce supply strategy in line with the NHS People Plan.
"At Oxford Health we will continue our focus on the development of homegrown talent through our highly successful nursing apprenticeship and nursing associate training programmes and through work with organisations like Oxford Brookes.
"But we also want to welcome experienced nursing colleagues who can immediately strengthen our workforce, providing resilience and flexibility which will have such a positive impact upon the wellbeing of our teams as well as improving the quality and continuity of care for our patients and service users.
"So, I am delighted that nursing colleagues from across the globe want to work with us.  They can be assured of a warm welcome, the chance to work alongside highly skilled multidisciplinary teams, and be part of a Trust that has a supportive and inclusive culture and ambitions to be rated outstanding."
The skilled nurses who have joined Oxford Health have been supported throughout their relocation, from arrival to the UK to finding accommodation.
Although at work on wards, they are not yet ready to carry out full nursing duties nurses as they must undergo an objective structured clinical examination (OSCE) first which will enable to be registered with the Nursing and Midwifery Council.
This proves they meet the high standards needed to be able to practice in the UK and will mean on passing they become Band 5 nurses and will receive three-year contracts to work with Oxford Health.
Meet the recruits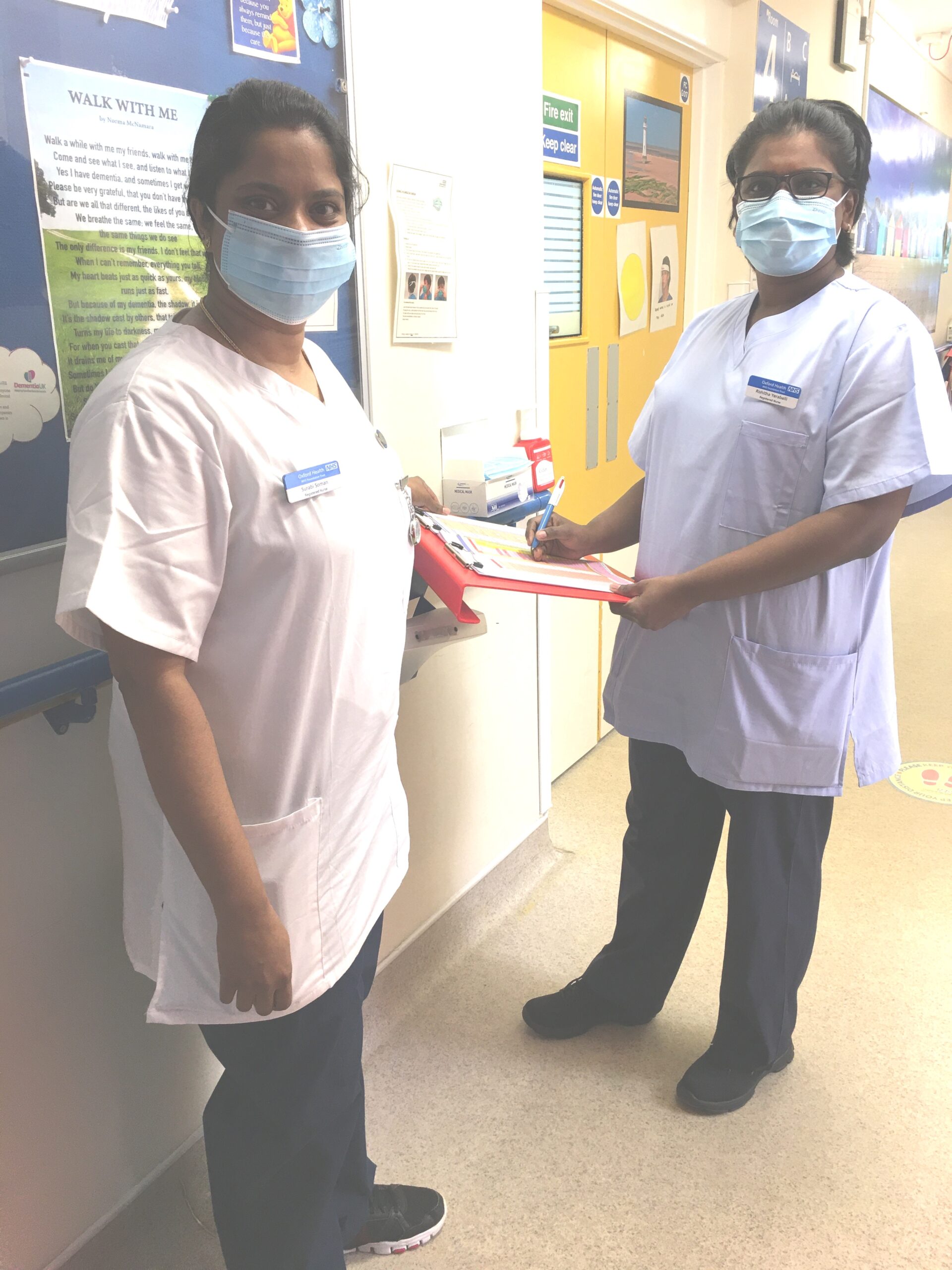 Two of the new recruits who are taking their exams this week (May 19) are Rishitha Yerawabi and Surabi Soman, who are both from south India and working on Abbey Ward at Abingdon Community Hospital.
Surabi, 33, (pictured left) is a skilled professional who worked for three years as an ITU nurse in Kerala before her caring career took her to Malta for four years.
She said: "It's great to be living and working in the UK and being at this hospital. I must say the entire recruitment process was so easy because we got great support from Oxford Health. My husband Savio is currently a healthcare assistant and is looking to train to become a registered nurse in due course."
Rishitha, 32, from Hyderabad, has 10 years' experience and was a fertility specialist nurse for four years and has also worked as a theatre nurse. She's made Abingdon her home, moving to the town with her IT engineer husband and five-year-old son, and said: "I really love working here and the patients are wonderful. Everyone has been so friendly, and I am looking forward to taking and passing my exams."
Another international nurse at the hospital is Olamide Olaleye, 30, from Nigeria, who is working on the award-winning Oxfordshire Stroke Rehabilitation Unit.  "It's so exciting coming to the UK to experience another culture and care for people in another setting, " she said. "I chose Oxford Health because I know this trust will support me as I prepare for my examination, so I can become a registered nurse in the UK."
If you want to work with Oxford Health at any of our locations, and have the commitment, energy and skill to make a real difference to people's lives, please take a look at some of our vacancies on the Oxford Health careers website here
We are sorry you did not find this page helpful
Tell us how we can improve this page