Oxford Health teams and individuals have made the shortlist in three of nine categories in the National Children and Young People's Mental Health Awards 2019.
Oxfordshire CAMHS participation lead Louis Headley has been shortlisted as a 'shining star', while the OSCA team (Outreach Service for Children & Adolescents) based at Raglan House, Oxford, is a contender for the liaison and intensive support award. Oxford CAMHS has been shortlisted in the partnership and co-production category.
The awards, part of #PPIMH (Positive Practice in Mental Health), celebrate the nation's most positive people and services working in children and young people's mental health and winners will be announced at an awards evening at the Moat House Hotel, Stoke on May 11.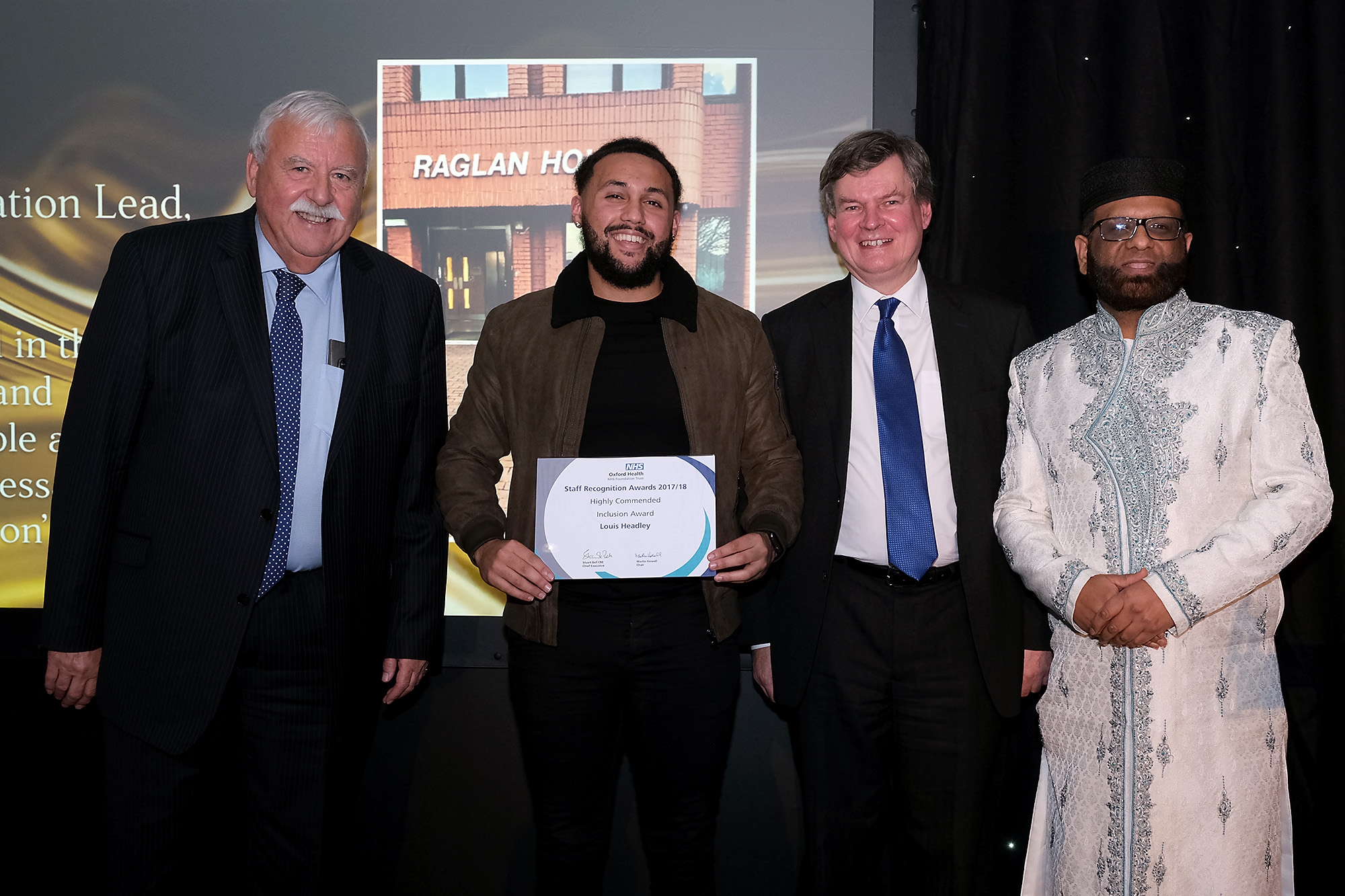 Louis, who was highly commended in the Inclusion Award at the 2018 Oxford Health Staff Recognition Awards, pictured, said: "'I feel privileged to be shortlisted and hugely appreciate the recognition from my service, CAMHS and the continuous support of colleagues. It's a joy to be a part of such a service."
His 'shining star' award category nomination recognises an individual member of staff who has "gone above and beyond to provide care for the young people they are looking after, supported by feedback from young people".
The OSCA team, which won the clinical Teamwork category in the Trust Awards, pictured, is one of four groups battling out for the top prize in the Liaison & Intensive Support Services class.
That award recognises services "supporting young people through a crisis. For a team/service that provides exceptional support and intervention to children/young people and their families through a period of crisis. Innovation is particularly sought, together with extended hours, and easy access."
Finally, Oxford CAMHS has been selected for partnership working and co-production category. The award recognises partnership working and/or co-production with children and young people in a service or project and is for education, health/social care organisations or third sector services who have established services in partnership with/co-produced with children and young people.
It is the second year of the national awards set up by #PPIMH (Positive Practice in Mental Health), a user-led multi agency collaborative of 75 organisations, including NHS Trusts, CCG's, police services, third sector providers, front line charities and service user groups. And it is endorsed by Breakthrough MH, #PPiMH Collaborative, NHS England and Combined Health NHS Trust.
Your chance to shine
All our teams will be automatically entered in the National Positive Practice in MH Awards 2019 (#MHAwards19) which will take place on October 10 at Duxford Air Museum in Cambridge. These are being supported by Cambridge & Peterborough Foundation NHS Trust and Hertfordshire Partnership University Foundation NHS Trust.
Other teams in the Trust still have a chance of glory as there are nine further categories, among them adult mental health services, eating disorders, older adult mental health, IAPT services and peer support workers.
The closing date is June 1.
For more details see https://bit.ly/2IEa2Vw