Pat shows hat's the way to be creative on the wards!
When a patient on an Oxford Health ward was handed some wool and knitting needles from the Art Cart, little did we know that she was a 'purly' Queen!
What do you get if you cross a patient on an Oxford Health ward with some wool and knitting needles? Well, if you are lucky, you could get a selection of fantastic woolly hats!
Patients on Oxford Health wards have the opportunity to take part in a range of fun arts activities to help with their recovery. The trust's Creating with Care 'art cart', which is full of materials and creative activities, is a regular feature on the wards thanks to the Oxford Health Charity Arts Partnership appeal.
Whether it's a spot of colouring or sketching, or maybe a textile creation, there's something for everybody. The art cart also carries colouring books and canvas sets with watercolours all funded by the Oxford Health Charity (OHC).
Pat's a proper 'purly' Queen 
Many of the activities come with a guide and are designed to get people started on a new or rediscovered activity, but for those who already have skills the possibilities are endless as Pat, who spent time on the Linfoot Ward in Witney,  has shown.
Last week she picked out some wool and knitting needles which are bundled with instructions on how to knit a simple square. However when arts coordinator Angela Conlan returned this week she was surprised to see Pat had made a number of hats for babies.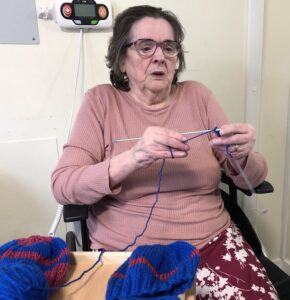 Angela said: "It's amazing to see what a difference activities from the art cart make to their stay on the wards. Even people who think they aren't creative find they have hidden talents.
"It was a wonderful to see what Pat had produced in such a short space of time, I really was taken aback as there was no pattern provided – she knew it by heart!
"The baby hats have been sent off to the Supporting the Sick Newborn and their Parents charity for premature babies at the John Radclffe and it is lovely that Pat has spent her time doing something that is good for her and the babies."
Julie Pink from OHC said: "Staying in hospital is all about getting better and things like the art cart really do make a big difference. Keeping mentally active by working on a fun and creative task helps in so many ways and, when you see things like the hats being made, there can also be a lasting benefit.
"This is just one of many things that the charity funds thanks to donations and every pound makes a massive difference."
We are sorry you did not find this page helpful
Tell us how we can improve this page