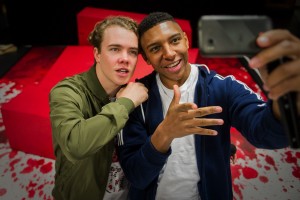 Why should the public have a say in what research gets funded and how? Surely doctors and researchers know best? Would you want to influence research tackling your own illness? And what impact does involving "lay" people have on questions being asked and money being spent?
People Are Messy, by award-winning playwright Judith Johnson, is supported by us and a Wellcome Trust Strategic Award. Devised and produced by Theatre of Debate, its primary aim is to engage young people aged 14+ in an informed debate about the practical, ethical and social issues around decision-making and health research.
The play, a comedy drama, explores the complexities of patient and public involvement through the eyes of two teenagers with very different ways of confronting a future made uncertain by a serious medical condition. Democracy, autonomy, personal responsibility and loss are all explored in this engaging, entertaining and accessible production.
People Are Messy has been researched and developed in partnership with an advisory group of experts including Simon Denegri, NIHR National Director for Patients and the Public and Maryrose Tarpey, Assistant Director of INVOLVE, led by Dr Sophie Petit-Zeman. Other advisors include patients, carers and people from the worlds of nursing, ethics, health experience research and public engagement, including those both supportive of and challenging to the principles of patient and public involvement.
Two free performances at Tingewick Hall in the Academic Block of the John Radcliffe Hospital, Oxford. Book your free tickets online here:
Wednesday 10 February, 2-4pm; Friday 12 February, 2-4pm