Pharmacist Rachel and Highfield Unit recognised for exceptional care
Exceptional care for children and young people was doubly awarded in the July round of Exceptional People Awards, when clinical lead CAMHS pharmacist Rachel Hogan and the Highfield Adolescent Unit were crowned the winners of the month.
The winners received their prizes in a small presentation at Warneford, led by CEO Dr Nick Broughton. Nick said:
"All across the Trust people are doing amazing things all the time, but every month we make a point of rewarding those who are doing a truly outstanding job."
Chief Pharmacist & Clinical Director for Medicines Management Michael Marven presented Rachel Hogan's award. She had been nominated by all the Oxfordshire CAMHS consultants who said that with her 18 years at Oxford Health and specialist knowledge of psychopharmacology in children and young people, Rachel is vital for providing caring, safe and excellent service.
"Prescribing in CAMHS is particularly complicated as we are often prescribing off- label and without good trial data. This makes it much more challenging, and Rachel's contribution all the more important."
On the top of that, Rachel has also trained as a non-medical prescriber, works one day a week with neurodevelopmental service with young people, and with Dr Tony James, has set up a pioneering treatment-resistant depression clinic for young people.
Rachel was visibly moved by the recognition from her colleagues. She was presented with a certificate, an engraved trophy and a £50 gift voucher.
Team going to great lengths
CEO Dr Nick Broughton presented the team award. The Highfield Unit had been nominated by clinical psychologist Samuel White, who noted how staff at the Unit go to great lengths to ensure that young people are kept safe in the least restrictive way possible and to offer positive experiences such as going out for meals, learning new instruments or engaging in artistic projects.
Recently staff have engaged in fundraising activities to provide a sensory room, and have worked hard to redesign the outdoor space and make this more therapeutic and supportive.
The representatives of the winning team were presented with a certificate, an engraved trophy and a £100 gift voucher.
Nominate now for August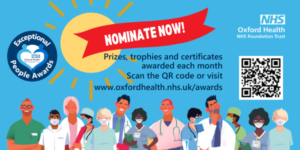 Nominate someone special or a top team now! Closing date for August submissions is August 24.
However, nominations are accepted at any time, so if you miss a certain month's deadline, your nomination will simply roll into the following month.  Fill in a nomination form online here.
We are sorry you did not find this page helpful
Tell us how we can improve this page