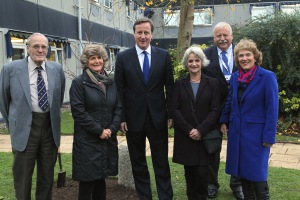 Prime Minister David Cameron was so impressed by the gardens at Witney Community Hospital when he visited in June, that he has donated a tree to show support to the volunteer gardeners who look after this important therapeutic space.
Mr Cameron said: "I was really amazed by Witney Community Hospital's gardens and by the volunteer gardeners who tend them when I visited here in June. I wanted to mark that by donating this tree. I know it is going to be in safe hands and hope it contributes to these beautiful gardens enjoyed by patients, visitors and staff.
Volunteer gardeners Janet Bouillin, Sally Kerr and Diana Blackman give their time and expertise to tend the hospitals two gardens. The tree, a sweet gum (Liquidamber) was sourced from a local nursery and is planted in the main hospital garden which is for patients, visitors and staff.
Janet Bouillin said: "All three of us really enjoy working in the hospital gardens and have strong views on the importance of attractive green space for well-being and recovery."
The garden was created in 1996 from a legacy from Mrs Palmer and from donations from various patients and friends.
Witney Community Hospital is run by Oxford Health NHS Foundation Trust and the Prime Minister previously visited the hospital in June to see the new Emergency Multidisciplinary Unit (EMU) at Witney Community Hospital, which opened earlier this year.