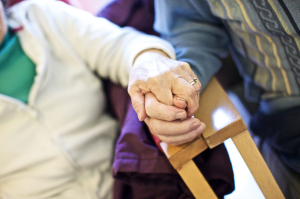 An innovative programme developed by the Thames Valley Knowledge Team, in partnership with Oxford Health NHS Foundation Trust and nearly 70 other organisations, has been shortlisted for a prestigious national award.
The SKINtelligence programme is operating across Oxfordshire to prevent avoidable skin breakdown in frail older people, and to manage problems earlier where they occur, to avoid or minimise the debilitating effect of pressure ulcers, leg ulcers and skin tears for older patients and residents.
Covering in-patient units in the trust as well as nursing and residential homes across Oxfordshire and Berkshire, the work has been recognised by the Health Service Journal (HSJ) for its ground-breaking cross-system working by being short-listed for a Patient Safety award.
The scheme involved an evaluation process of the current problem across the Oxfordshire area, both in public and private health care settings, and introduces new learning and information sharing tools for staff. It uses internationally recognised quality improvement tools, so that each site can demonstrate the benefits of the work they are doing by measuring the improvement in the care of the patients they serve.
Cathy O'Sullivan, Chief Executive of the Thames Valley Health Knowledge Team said: "Pressure ulcers, leg ulcers and skin tears cause pain and distress to older people and can be avoided by a systematic approach to prevention, assessment and early management.
"It seemed that there were a significant number of avoidable admissions and inappropriate referrals to tissue viability services which could be better managed if generalist staff across the system were working in a more coordinated way.
"We have estimated that almost £1m could be saved by the local health economy if we can systematically improve the current way in which this issue is managed across Oxfordshire."
The programme is an exemplar of the benefits to patients and the public when the health sector works in partnership with the care sector, to take a common approach to harm reduction and the improvement of healthcare.
Carers are also an important part of the scheme and the training recognises the importance of their involvement in the long-term efforts to reduce and end unnecessary skin health issues.
Ros Alstead, Director of Nursing and Clinical Governance for the trust, said: "This is excellent training that is based on the fundamental elements to reducing these kinds of problems in patients.
"It focuses on nutrition, hydration and mobility, with a particular emphasis on falls avoidance and pain management in elderly patients.
"The trust is about to go through its second round of training next month with more than 20 members of staff from across 10 different disciplines receiving the additional learning.
"Pressure sores and leg and back ulcers are extremely painful and can be extremely debilitating for patients and can even be life-threatening in the most extreme cases.
"Oxford Health NHS Foundation Trust welcomes the work of the SKINtelligence team and we are committed to doing all that we can to stop any unnecessary suffering."
For more information on the Thames Valley Health Knowledge Team go to www.tvhiec.org.uk